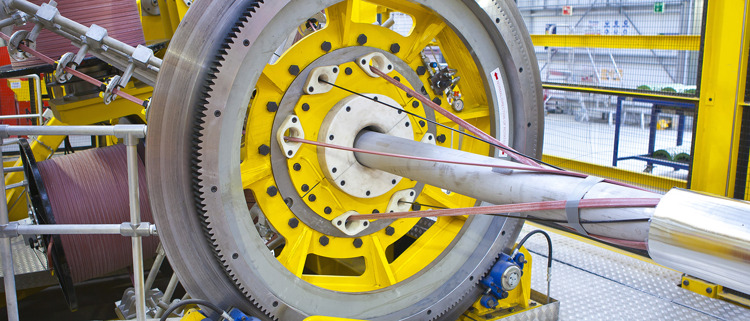 Rigid pipelines
Advancing subsea architecture in the production and installation of rigid pipelines
Rigid pipelines are a fundamental component of subsea architecture, forming the subsea highway that transport oilfield fluids between the wellhead to the processing facility. TechnipFMC procures, fabricates and installs rigid pipelines in all areas of the world in water depths from tens to thousands of meters offshore. 
Rigid pipelines are made from carbon steel, corrosion resistant alloys or hybrid construction with a carbon steel parent pipe and internal corrosion resistant cladding or lining. The pipelines are coated for external corrosion protection and insulation. Demanding insulation needs are met using a double wall pipe-in-pipe construction with high performance insulation concealed in the annulus, which may also include active heating cables. 
Rigid pipelines range from small diameter 4-inch pipes for oilfield service fluids, to 18-inch infield lines, to larger diameter export trunk lines connecting offshore processing facilities to onshore receiving facilities. 
We are experts in the design, assembly and installation of subsea rigid pipeline systems. We offer several rigid pipe products to meet the needs of operators who face a range of challenges from solving flow assurance issues to transporting highly corrosive fluids.
Worldwide delivery of rigid pipelines
Offering a variety of subsea pipe
TechnipFMC procures, fabricates and installs a variety of rigid pipeline systems including:
Single pipelines
Plastic lined pipelines
Corrosion resistant alloy pipelines
Direct electrically heated pipelines
Pipe-in-Pipe
Electrically trace heated pipe-in-pipe
Piggybacked pipelines
Steel catenary risers (SCR)
Free-standing hybrid risers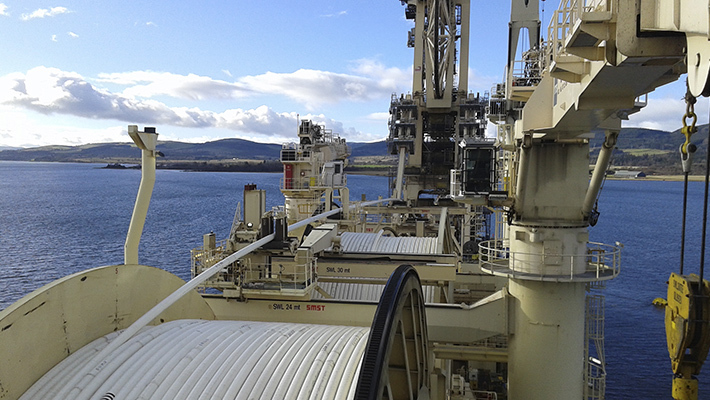 Advanced fleet of pipelay vessels
TechnipFMC clients benefit from one of the most advanced fleets of pipelay vessels in the industry. We specialize in the installation of rigid pipelines including mid and end structures. These can be installed via reel-lay, S-lay or J-lay methods from our vessels listed below.
Our reel-lay vessels operate out of four strategically placed spoolbases in the USA, UK, Norway and Angola.
Pipe-in-pipe
TechnipFMC is the recognized subsea industry expert in the design, assembly and pipelay of reeled pipe‑in-pipe (PiP) systems. Our expertise helps operators address flow assurance challenges, especially in fields requiring very high thermal insulation performance. We have achieved a significant worldwide track record in this specialized rigid pipe product, with more than 1,100 kilometers of installed pipe-in-pipe.