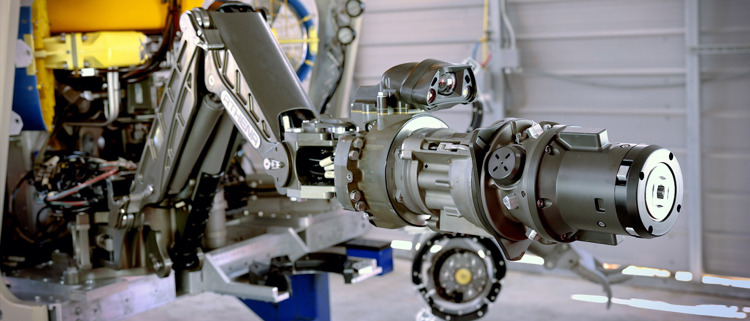 Manipulator systems
Our Schilling Robotics legacy brand delivered its first manipulator system in 1986. Since then, we have delivered more than 3,000 systems. Our manipulators are deployed on nearly every work-class ROV in the world as well as other submersibles, including electric ROVs, and research and exploration submarines.
The Schilling Robotics manipulators perform a variety of intervention tasks. These systems are controlled remotely from surface and range from the rugged five-function RigMaster™ to the seven-function, position-controlled TITAN 4™. Additional manipulator systems include the ORION and ATLAS and our newest offering, Athena™.
The Athena™ Tooling Interchange System is TechnipFMC's latest evolution in subsea interchangeable tooling and controls, bringing adaptability to the current generation of ROVs. The force-compliant Athena™ tooling interchange system is based on the field-proven TechnipFMC Atlas™ manipulator, providing consistent and reliable results during subsea operations. It can be installed as an upgrade to an existing Atlas™ manipulator or retrofitted to existing vehicles. It's suited to work with today's highest-performing vehicles under the most demanding conditions.
The tool exchange wrist transfers power, communications, and control fluids to attached tools, and is designed to reduce forces and binding during subsea tasks. With no need to return to deck to reconfigure tooling, operations are continuous – maximizing operational efficiency and productivity.
As subsea intervention tasks increase in complexity, Schilling Robotics will continue to evolve its best-in-class manipulators, providing the dexterity, strength and reliability to perform intricate tasks under water.
Dexterity, strength and reliability
Benefits include:
Robust performance
Ease of installation
Multiple configurations
Streamlined
Rugged
Durable
Schilling Robotics Manipulator Lease Program
The Schilling Robotics manipulator lease program conveniently allows customers to select a desired manipulator for a specific job at the cost of a day rate and offers flexibility for scheduled and unscheduled maintenance without committing to the full cost and required long-term maintenance of equipment.
Schilling Robotics manipulators are the highest quality systems on the market for their dexterity and strength needed to withstand
the industry's harshest conditions day after day.