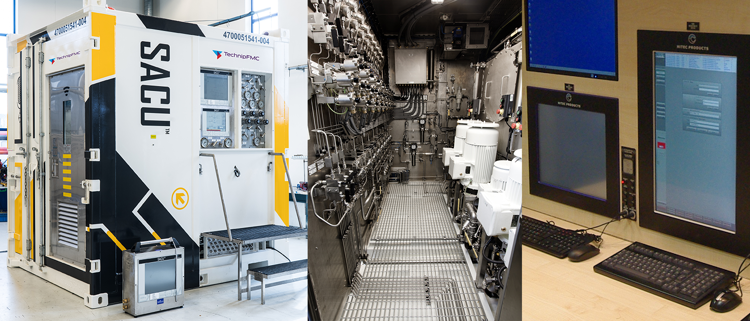 Intervention and workover control systems
Intervention and workover control systems
Our intervention and workover control systems (IWOCS) enable safe and efficient control of installation, intervention and completion work on subsea wells
IWOCS is a part of our well access system (WAS) providing access to subsea equipment and wells
TechnipFMC's intervention and workover control systems are meeting subsea challenges by efficiently managing subsea tree (XT) installation and well access tools control. 
We have more than 30 years of operational experience with 120 delivered systems, making us a technology leader on WO Control Systems. We deliver globally according to ISO 13628, API 17G standards and other international and regional standards. 
Intervention Workover Control Systems
By taking charge of the entire control system, we ensure operational integrity, efficiency and safety, which allows us to offer turnkey solutions from pre-commissioning to end of life services. 
Our IWOCS control all types of tools needed to support a subsea well's life of field, including: 
XT installation tools 
Downhole instrumentation 
Open water Well control packages (WCP) 
Tubing hanger installation tools and subsea test trees (THI & SSTT) 
Riserless well intervention systems (RLWI) 
Plug and abandonment systems (P&A) 
Our systems can be configured to control various operational modes, including: 
Installation and testing 
Simplified landing string 
Full landing string 
Open water 
Well startup 
Plug and abandonment
From simple to complex operations
Our IWOCS capabilities offer field-proven building blocks based on reliable products that meet top industry standards. With a system design gained from three decades of operational experience, we provide superior solutions among industry competitors.  
One system provider
TechnipFMC has supplied and operated more than 50 completion workover risers systems and over 580 wells with light well intervention services.
Mobilization benefits
Scalability reduces footprint, weight and complexity
Standard building blocks increase quality and reduce cost
Modular design cuts mobilization and demobilization expenses
Fast reconfiguration capabilities
Small size and low weight, limits needs for shallow water lifting
Operational benefits
Subsea control modules reduce umbilical size and weight
Subsea control system eliminate need for umbilicals
Water depth to 10,000 feet (3,000 meters)
Hydraulic system at 20 kpsi/1380 bar
Capable of remote operations
Seamless integration with subsea production control systems (SPCS)
Design features
Standardized and modularized design reduces engineering costs, improves reliability and promotes flexibility
No single failure in the IWOCS will cause an unintended system shutdown, safety or environmental risk, or asset loss
Size and weight efficient design reducing footprint and mobilization cost
The SACU topside control system is a 10-ton, 10-foot control container qualified for offshore lifting (DNV 2.7–1) 
Modular design enables easy reconfiguration to control all types of well access tools
They are design for operation in hazardous areas, such as gas Zone 1, T3, Gas Group IIB
They can be qualified to other regional standards as required
The system's operating temperature is -20 to +50°C