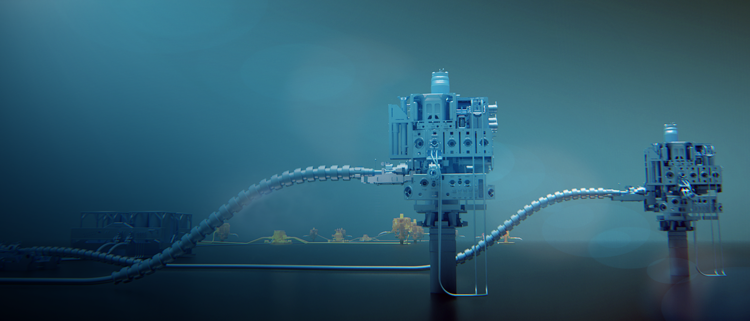 TechTalk
Join our complimentary webinar series to hear the latest in Subsea Energy technology and services from our team of global experts. 
Join our Subsea Industry Webinar Experience.
TechnipFMC TechTalk is a quick, immersive 15-minute virtual event, led by our technical experts on topics such as transformative technologies, emissions reduction, schedule-accelerating services, and energy trends.

Available TechTalks can be accessed below with new sessions posted regularly. Sign up today to be notified when new TechTalk on-demand sessions are released and for news on upcoming live events. 
Electrification of the field
TechnipFMC has been offering electric subsea products for over 20 years. Explore our history, the evolution of our electric systems, and how electrification of the subsea field is an enabler for automation.
Setting Standards: In the beginning
Regulations, Standards, Guidelines, and recommended practices were developed as a foundation for a safe and reliable energy industry. But with all the global governing bodies and documents who is required to do what? This TechTalk is one of three sessions to help simplify the relationship between the authorities, operators, and standards.
GEMINI® ROV System
The GEMINI® ROV system is the next generation of advanced 250 hp Work Class ROV system providing unprecedented subsea productivity. The integration of ROV, manipulators and tooling enables a transition to highly-automated subsea robotics, which reduces task time from hours to minutes, ensuring predictable results every time.
Subsea Power Distribution Station
Our new Subsea Power Distribution Station, winner of a 2020 Spotlight on New Technology Award at OTC Houston and Best EOR Technology category at the World Oil Awards, simplifies field installation, step-out wells and field expansions, clearing the path for maximized reservoir recovery.  
Subsea Studio
Subsea Studio™ FD is an advanced digital platform that streamlines subsea field development by integrating TechnipFMC know-how to build smarter solutions. Discover how we use it to transform conventional concept, FEED and tender into ultra-fast digital field development.
Big Bore Gas Field Production
A primer on the differences between oil and gas fields that draws upon our experiences at Ormen Lange, Laggan-Tormore and Greater Western Flank. This session also discusses the technology necessary to meet the challenges associated with large bore gas fields.
Life of a Subsea Field
Life of a Subsea Field
Learn more about the technologies and processes used to develop subsea fields around the world.
HPHT
HPHT Environments: 20K and Counting
Our experts will guide you through the technology used in some of the world's most challenging environments: High-Pressure/High-Temperature subsea fields. 
iEPCI™
Improving Project Economics Through Our Integrated Approach
Receive an introduction to iEPCI™, the industry's first integrated approach to project execution. 
RLWI
Reducing Costs Through Riserless Light Well Intervention
Learn about Riserless Light Well Intervention (RLWI), a safe, efficient, and cost-effective intervention method for subsea fields.
Well Control Solutions
Industry-Leading Subsea Systems
With more than 40 years of experience and a record-setting subsea completion, our experts will walk you through the foundations of well control and subsea systems.