News - Press Release
TechnipFMC accepted its Spotlight on New Technology award at a ceremony held during the Offshore Technology Conference (OTC) in Houston.
Dale Kempenski, Flow Control Strategy, Well & Flow Control, EMS, collected the prize for the Subsea 2.0™ In-Line Compact Robotic Manifold.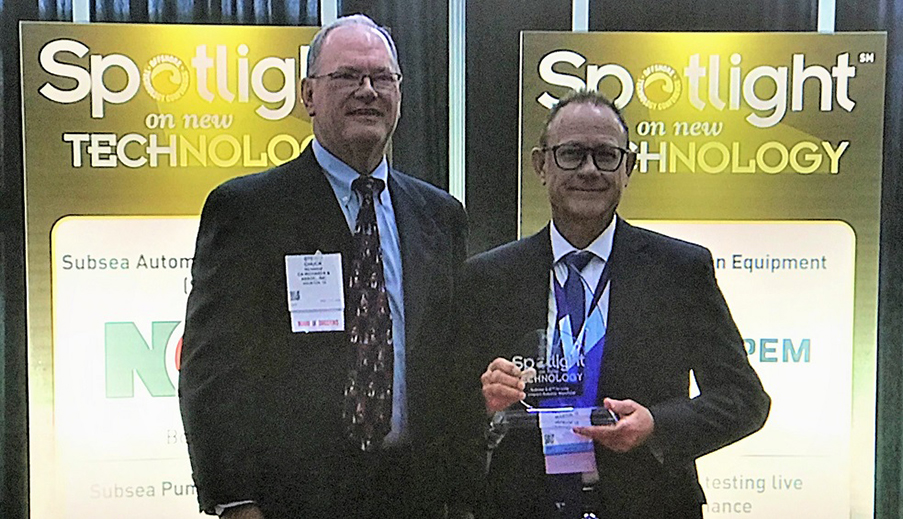 The award highlights the industry's most advanced, cutting-edge technologies. Judges look for originality, ground-breaking features, impact and proven success when they select a winner. 
TechnipFMC and its fellow Spotlight award recipients were notified that their submissions were chosen in March.  
Dale said: "It was both an honor and a privilege to accept the award on behalf of TechnipFMC. This achievement truly represents the industry recognizing the value of our Subsea 2.0TM product platform and the significant impact they have on improving the economics of our clients' subsea projects.
"Moreover, the In-Line Compact Robotic Manifold team in Brazil has shown the importance of challenging requirements and using innovation and new technologies to pave the road towards the future of our subsea business."
Like other Subsea 2.0™ products, the compact manifold is 50% lighter and smaller, with a delivery time that is up to 50% shorter.
Wakif Beydoun, Chairman of the OTC 2019 Board of Directors, said: "Each Spotlight on New Technology Award submission is reviewed and rated by several subject matter experts, providing a sound and fair scale.
"This year, more than 450 ratings were submitted, and the best of some incredible submissions were chosen.
"We are very proud, at this special Golden Anniversary of OTC, to present these 18 Spotlight on New Technology Award outstanding winners. They are proof that the highway of the future in offshore development is being paved by innovations."