News - Press Release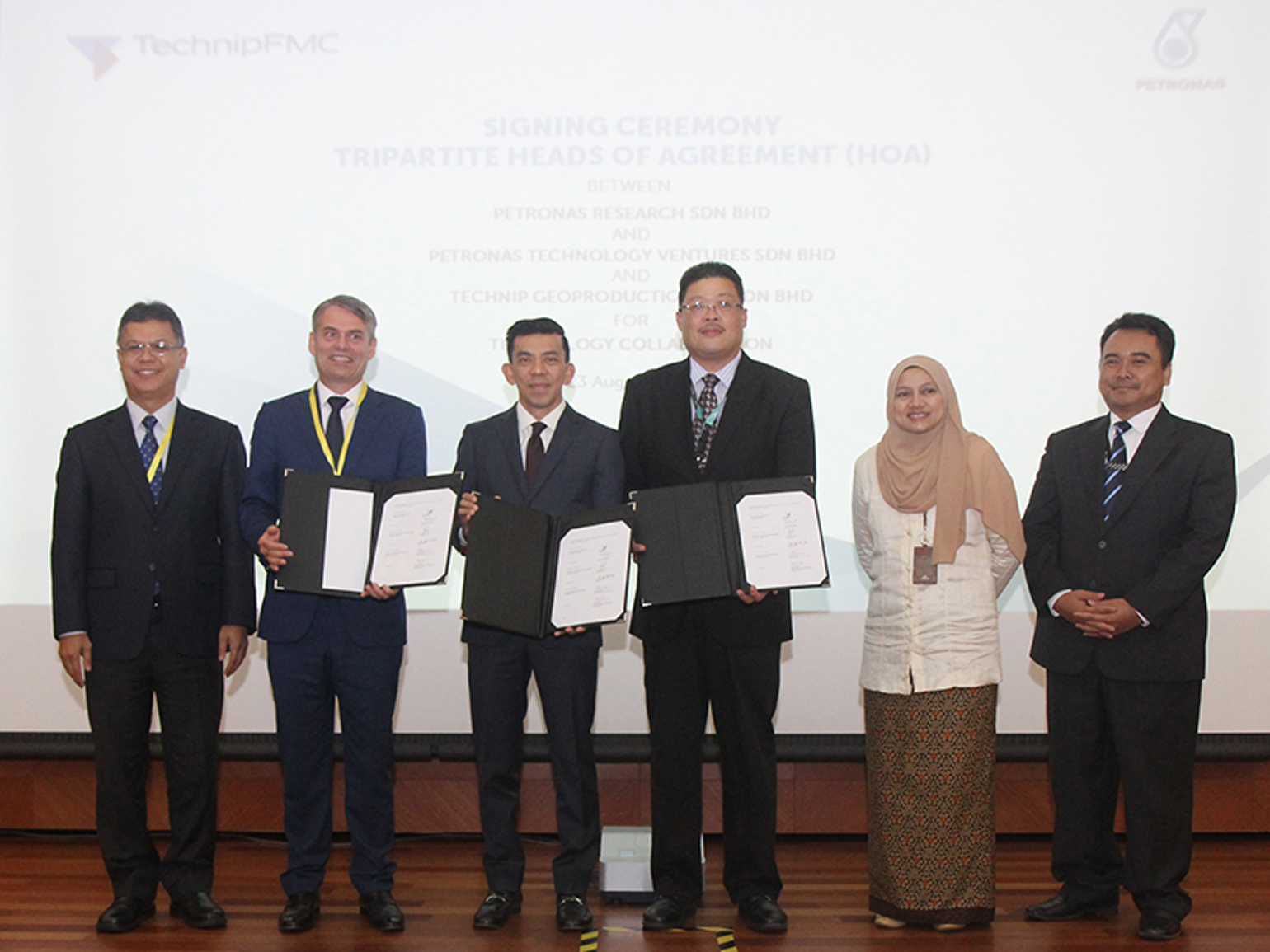 KUALA LUMPUR, October 31, 2017 — TechnipFMC together with PETRONAS Research Sdn Bhd (PRSB) and PETRONAS Technology Ventures Sdn Bhd (PTVSB), both subsidiaries of Petroliam Nasional Berhad (PETRONAS), signed a Tripartite Heads of Agreement recently.
This collaboration will leverage all parties' best technology, expertise, personnel, assets and facilities in areas such as Gas Separation Technology, Desanding and Sand Disposal, Enhanced Oil Recovery Solutions, Unmanned Equipment and Operations.
Rune Thoresen, President Subsea Projects Asia Pacific, TechnipFMC stated in his speech at the signing ceremony "Even before today's event which formalizes the collaboration between the two parties, we have been working closely with PETRONAS since the early 80s in Malaysia, delivering many groundbreaking solutions, and recently, the world's first Floating LNG- PETRONAS FLNG SATU."
He added "I'm confident that the synergies forged from our strong presence, delivery and relationship with PETRONAS would give us a head start in the first Front End Engineering Design (FEED) execution under this agreement."
The Tripartite Heads of Agreement is a technological collaboration between TechnipFMC, PRSB and PTVSB. TechnipFMC, as a strategic partner in the collaboration, will have joint ownership of potential foreground intellectual properties arising from the collaboration.


###


About TechnipFMC
TechnipFMC is a global leader in subsea, onshore/offshore, and surface projects. With our proprietary technologies and production systems, integrated expertise, and comprehensive solutions, we are transforming our clients' project economics.
We are uniquely positioned to deliver greater efficiency across project lifecycles from concept to project delivery and beyond. Through innovative technologies and improved efficiencies, our offering unlocks new possibilities for our clients in developing their oil and gas resources.
Each of our more than 40,000 employees is driven by a steady commitment to clients and a culture of purposeful innovation, challenging industry conventions, and rethinking how the best results are achieved.
To learn more about us and how we are enhancing the performance of the world's energy industry, go to TechnipFMC.com and follow us on Twitter @TechnipFMC.
Contacts

Media relations

Jamie Yung
Regional Head of Communications, APAC
Tel: +6 03 2116 7931
Mobile: +6 012 3356 289
Email: puileng.yung@technipfmc.com
Chan Kong, Shea
Communications Specialist, Communications, APAC
Tel: +6 0321167613
Mobile: +6 016 866 4825
Email: chankong.shea@technipfmc.com