News - Press Release

Over the past five years, the Oil & Gas industry has sought to improve the economics of projects, while maintaining the highest quality and safety standards, and placing an increasing focus on carbon footprint reduction.
This has required thinking differently. We have to embrace digital transformation and develop innovative solutions to fundamentally improve the way we operate, while managing the risks inherent to major changes. Likewise, other industries have pursued similar transformations successfully, it is therefore essential to understand how we can apply the lessons learnt to our own Industry challenges.
At TechnipFMC, we have embraced the change, and as part of our digital transformation, we have triggered a development program leveraging Cybernetix, a TechnipFMC company, to assess how robotics can assist in enhancing the performance of Oil & Gas production facilities.
Cybernetix is a pioneer and a leader in supplying Advanced Robotics Solutions for harsh and constrained environments to the industry. Throughout the past 30 years, we have developed innovative software and hardware solutions to allow our clients from the Offshore, Nuclear and Defense industries to enhance the performance of their assets.
The first edition of the Robotics Demo Days will take place on the 29th and 30th of October 2019 in Marseille. The Demo Days will be at the Cybernetix premises and are organised by the Cybernetix Offshore Robotics Team. During these two days, we will focus on the theme: "How advanced robotics for topsides can enhance the performance of offshore facilities."
To learn more about our expertise in Offshore Robotics and attend impressive live demonstrations and simulations, register here by entering the password: RDD2019.
Registration is free and the Agenda for the demo days is available here.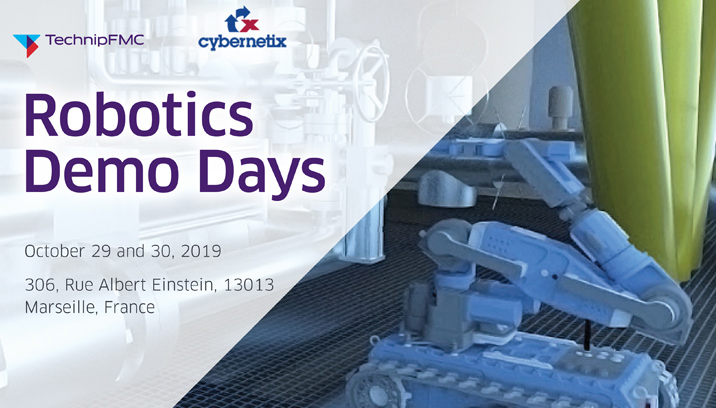 We look forward to building with you the industry of tomorrow.