News - Press Release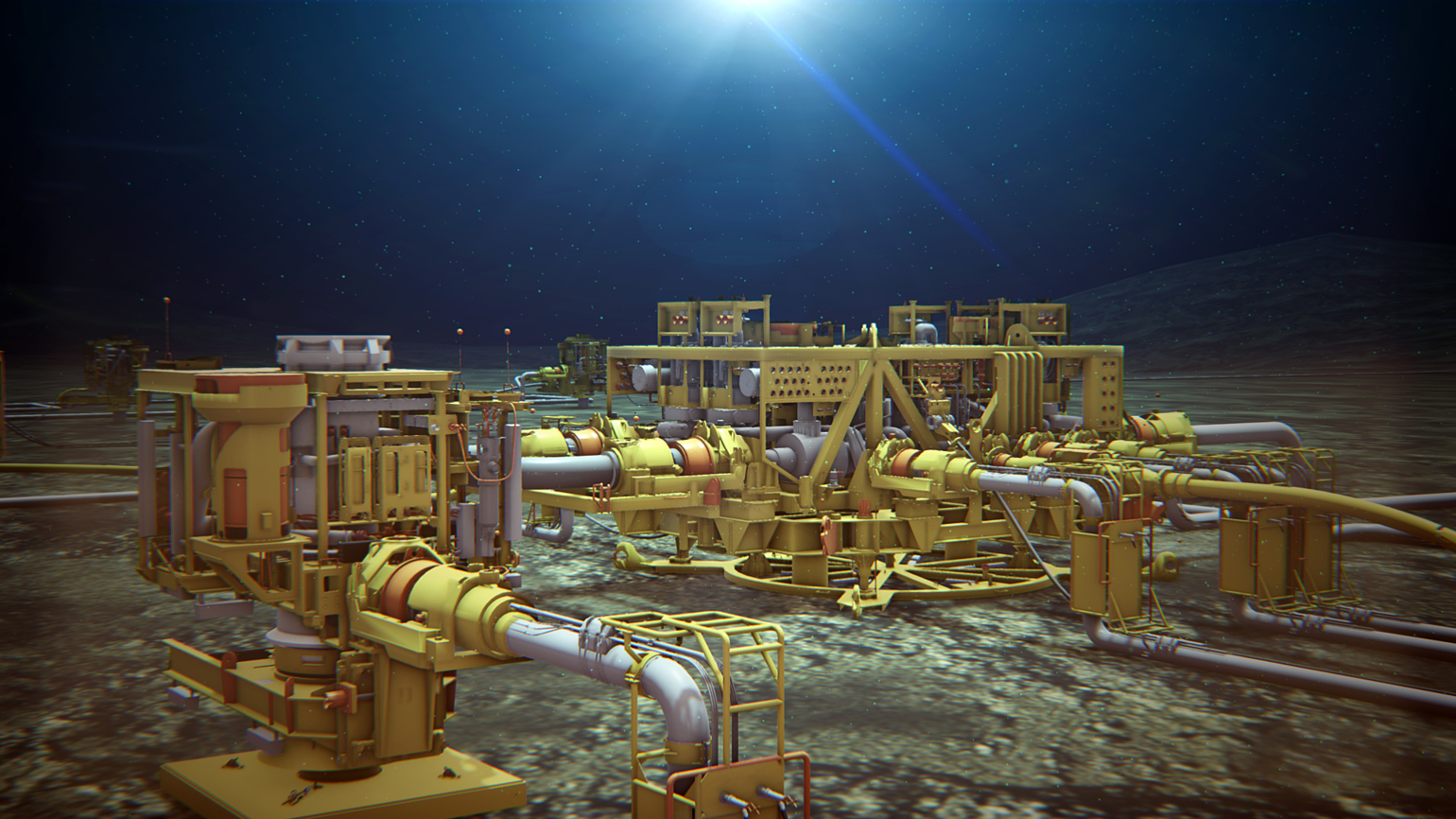 Total's Egina field, located 150 km (93 mi) off Port Harcourt, kicked into production just as 2018 was winding to a close. The start-up of any offshore field is notable, but Egina's is especially so: The field is estimated to contain reserves of 550 MMbbl. Lying in water depths ranging from 1,400 to 1,750 m (4,593 to 5,740 ft), Egina is one of the deepest offshore projects Total operates. The massive field also requires the company's largest floating production, storage and offloading vessel (FPSO) to date, the 330 m-long (1,083 ft) FPSO Egina, which has a 60,000-ton topsides and a storage capacity of 2.3 MMbbl of oil.
TechnipFMC is responsible for the 44-well field's full subsea production system (SPS) and flexible piping. Total awarded us a contract worth more than a billion dollars in June 2013 that covered subsea trees and wellheads, manifolds, installation tooling, flowline connection systems, multiphase meters, and associated control systems. At the time of the order, it was the largest subsea project to date in West Africa.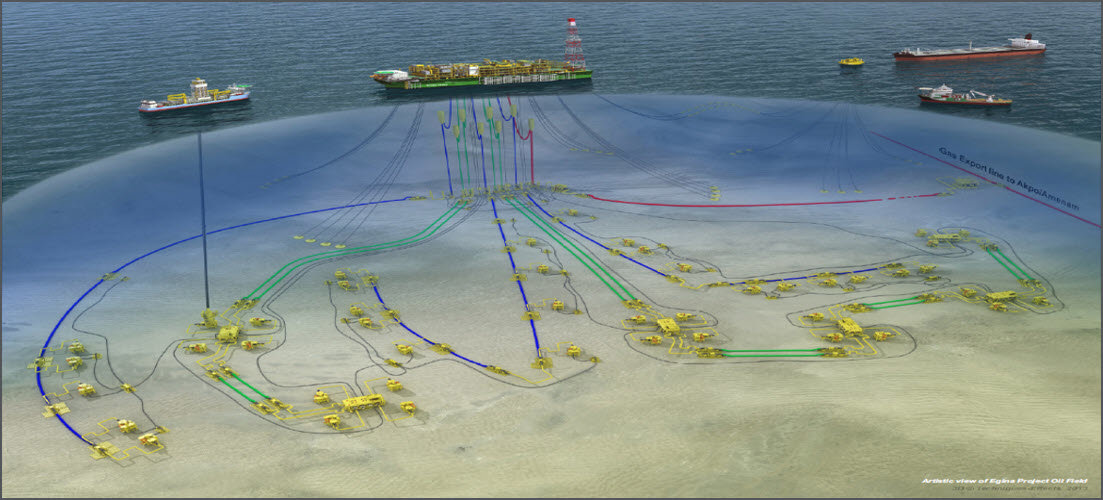 Artistic Rendering of the Egina ultra-deepwater field offshore Nigeria. TechnipFMC is responsible for the field's SPS.
In July 2013, we received two contracts to supply flexible piping. The awards covered the qualification and supply of 12 dynamic flexible jumpers ranging from 3.5-in. to 12.5-in. for oil production, gas lift, water injection and gas export to connect the single top tension risers to the FPSO. Also included were two 20.5-in. unbonded flexible pipes as oil offloading lines connecting the FPSO to the offloading buoy and associated equipment. At the time, these were the largest flexible pipes the company had manufactured to date. In the same month, we were awarded a contract to supply the steel tube umbilicals.
Egina's start-up is also of particular significance to the local oil and gas sector. Total expects the field to peak at 200,000 bo/d, which it says is equivalent to 10% of Nigeria's total production.
The field resulted in a rush of local training and jobs, infrastructure upgrades, and further development in Nigeria. In June 2016, we celebrated a new subsea services workshop in Onne, Port Harcourt. This support center functioned as the service base, but fabrication also occurred in Norway and Scotland. Engineering and construction for the subsea production system were completed in Nigeria.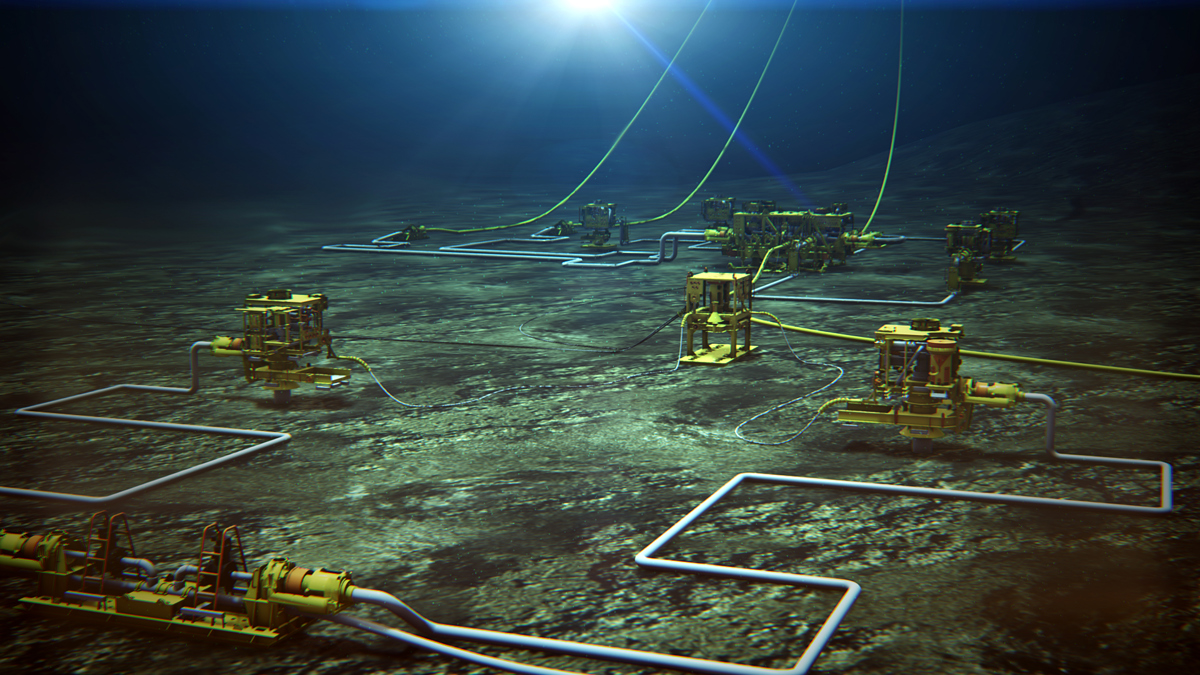 TechnipFMC is responsible for Egina's full SPS.
The first two of the eventual 44 subsea trees were delivered in April 2016. Two months later, we marked the first two of Egina's subsea trees to be fully completed in Nigeria.
In October 2017, our six manifold modules were installed at Egina. All were manufactured at the Aveon yard in Port Harcourt, with first steel cut in late 2013.
Discovered in 2003, the Egina field is located on Block OML 130, within kilometers of the Akpo field, producing since 2009, and the Preowei discovery, for which a final investment decision is expected later in 2019. Operator Total partners with Nigerian National Petroleum Corp., CNOOC, Sapetro, and Petrobras on the lease.
Additional information on Egina and all Total assets courtesy Total.com.