News - Press Release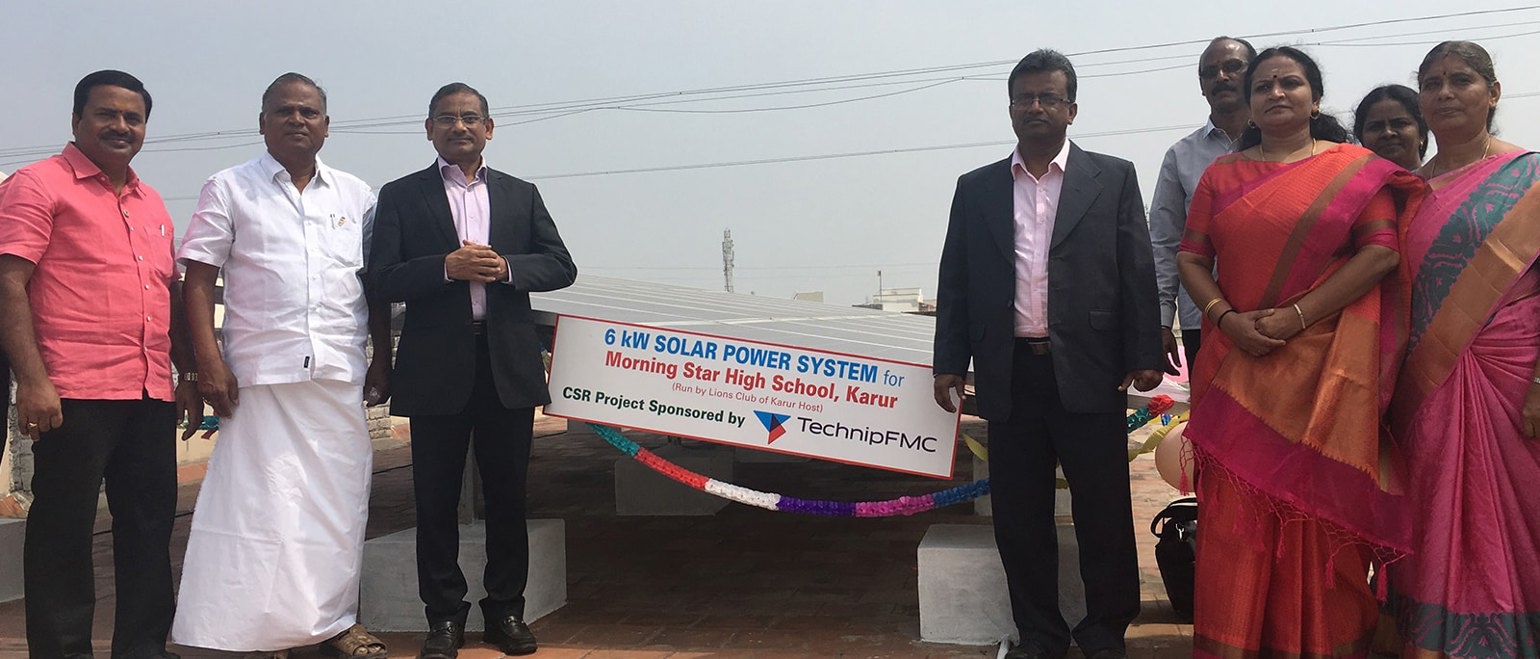 In line with TechnipFMC commitment to Sustainable Development, TechnipFMC in India, has taken up several initiatives under Corporate Social Responsibility (CSR) program to demonstrate the act of compassion towards the well-being of local community.
True to the purpose, at TechnipFMC India* we proudly refer our CSR program as 'Seed of Hope'.
Here is a snapshot of few of our activities aiming to instill Seed of Hope across India where we operate.
Time Period: FY 2016-17
In Delhi, with a strength of over 1000 employees, we have established ourselves as Tier 1 EPC player and identified the areas in the vicinity of Delhi & NCR to initiate projects with long term impact in the field of education and sanitation.
In order to support Swacch Bharat (Clean India) initiative of the Government of India, we have tied up with Divya Prem Seva Mission in Haridwar, Uttarakhand to construct 38 toilets in Bhogpur village in Rishikesh to provide sanitation facilities to the villagers. To further our support in education, a computer lab was set up in Father Agnel Balbhawan School in Greater Noida, U.P. In Banaras, through the Ashadiya Foundation, TechnipFMC sponsored education, medical and lifestyle expenses of orphaned girls.
TechnipFMC is present in Mumbai with a strength of 650 people and has kicked off significant community programs in Mumbai and Gujarat to support education for the girl child, integrated development for villages and providing necessary aid to drought affected farmers.
Through the SOS Children's Villages of India present in Mumbai, we sponsored the education of 27 underprivileged girls to reinforce our commitment to Girl Empowerment Movement (GEM). We also donated to the NAAM Foundation to support drought-hit farmers in Maharashtra. In Ahmedabad, we have adopted twelve girl children of Vidya Mandir Residential School to sponsor their education fees till the completion of their school education.
In Dahej, Gujarat, TechnipFMC has set up its first Modular Manufacturing Yard in India and alongside our business commitment towards our stakeholders, we have adopted a local village, Suva at Vagra Block to promote integrated development in four fundamental areas:
Improve education infrastructure and promote eLearning amongst students
Encourage financial literacy and promote micro-enterprising
Enhance awareness on healthcare, hygiene and sanitation, especially for pregnant women, lactating mothers and children
Raise awareness on disaster management
To this purpose, we have collaborated with SEED, a leading CSR implementation agency.
Our Chennai Office with a strength of over 1000 employees has been in the forefront in performing several projects in Onshore / Offshore / Subsea segments both locally as well as globally and is carrying out various programs to promote community development in the areas of education, health, women empowerment and environment.
In Chennai, we have taken up the following CSR initiatives in 2016:
Sponsoring education of hundred meritorious orphans through Seva Chakkra Samajam Trust
As a company, Health, Safety and Environment are our top priorities, thus, through Ganesh Mandali Engine Valves (GMEV) Trust, TechnipFMC set up an ICU in Margaret Sydney Hospital to provide affordable healthcare to the underprivileged in society
To promote clean energy, we have installed a Solar Panel Grid at a school in Karur, Tamil Nadu through Karur Lions Club Charitable Trust
In order to empower women, in association with Association of Lady Entrepreneurs of Andhra Pradesh (ALEAP), we sponsored machinery to manufacture bio-degradable sanitary napkins and provided training to underprivileged women to earn their livelihood
We sponsored therapeutic tools and aids for the differently-abled children of Authichudi School through the Swastik Trust in Kanchipuram, Tamil Nadu
In association with Indian Institute of Technology, Madras (IITM) we have initiated a four year long Sustainable Waste Management and Resource Recovery (SWR-RM) project to build a zero waste village in Kanchipuram.
Through IITM we have also executed C-4 Education Program in eleven schools in Chennai and West Bengal with an aim to promote education in rural areas where qualified teachers are rare. This program aims at mentoring of school children by students four classes senior to them.
* Technip India is a subsidy of TechnipFMC Group.