News - Press Release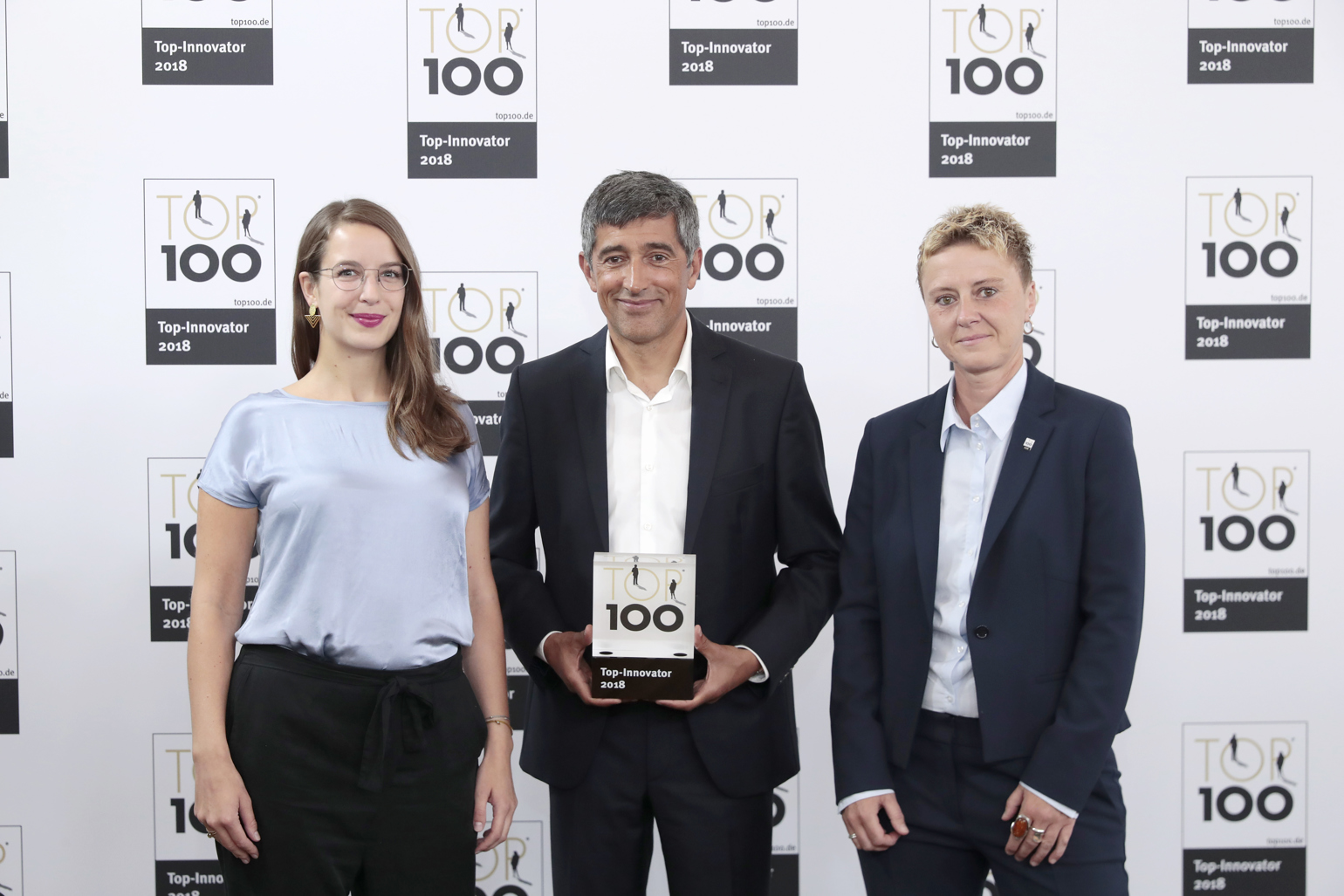 Photo credit: KD Busch / compamedia
LONDON, PARIS, HOUSTON, July 4, 2018 — TechnipFMC (NYSE: FTI) (Paris: FTI) announced today that its operating center in Frankfurt, Germany, has been presented with the TOP 100 Innovator Award for outstanding innovative strength and leading innovation in their sector.
The Frankfurt center is home to the Zimmer® polymer technologies business(1) acquired by TechnipFMC in 2015. The center designs plants based on proprietary technologies for the production of various polymers such as polyesters (PET, PBT, PTT), polyamides (PA6, PA6.6) and biopolymers. The polymers can be used for various applications such as plastic bottles, packaging film or textiles.
With its own laboratory and pilot plants and backed by 60 years of experience, Zimmer tests and develops new processes, either proprietary or in cooperation with clients, with an open innovation approach. In recent years, the company has developed new polymer products that are particularly forward-looking as they are either biodegradable or made from renewable raw materials. The center is part of TechnipFMC Process Technology, a global network of centers which manages the company's expanding portfolio of onshore process technologies in petrochemicals, refining, hydrogen and syngas, polymers, gas monetization and renewables.
Stan Knez, Senior Vice President, TechnipFMC Process Technology, stated: "We are proud of our Zimmer team and their innovative open approach to developing high-quality, sustainable polymers demanded by today's market. This award recognizes their efforts and supports TechnipFMC's vision to enhance the performance of the energy industry."
The TOP 100 Innovator Award has been established for 20 years and is a seal of approval for outstanding innovative strength of small and medium sized enterprises (SMEs) in Germany. It is the most relevant award for innovative SMEs and a club of excellence made up of Germany's innovation elite. The award ceremony was held in Ludwigsburg, Germany, in the context of the 5th German Middle Class Summit on June 29, 2018.
(1) Zimmer operates under the legal entity, Technip Zimmer GmbH.
###
About TechnipFMC
TechnipFMC is a global leader in subsea, onshore/offshore, and surface projects. With our proprietary technologies and production systems, integrated expertise, and comprehensive solutions, we are transforming our clients' project economics.
We are uniquely positioned to deliver greater efficiency across project lifecycles from concept to project delivery and beyond. Through innovative technologies and improved efficiencies, our offering unlocks new possibilities for our clients in developing their oil and gas resources.
Each of our more than 37,000 employees is driven by a steady commitment to clients and a culture of purposeful innovation, challenging industry conventions, and rethinking how the best results are achieved.
To learn more about us and how we are enhancing the performance of the world's energy industry, go to TechnipFMC.com and follow us on Twitter @TechnipFMC.
Contact
Cindy Viktorin
TechnipFMC Process Technology
Tel: +1 281-848-5261
Email: cindy.viktorin@technipfmc.com