News - Press Release

Digital technology is gaining a strong foothold in the energy industry as more companies embrace the benefits of automation in measurement solutions and other capabilities.
Those benefits can be far-reaching, ranging from saving clients time and money to boosting efficiency and safety. Digital technology can be a vital tool in improving productivity, reducing costs and providing more useful analytics enabling companies to make faster, more effective decisions.
The growing consensus is that the energy industry is on the cusp of a new era.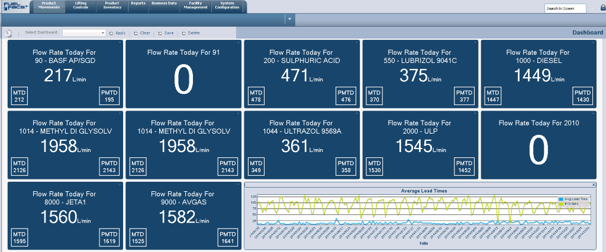 (User defined dashboard to help analyze flow rate information from the Fuel-FACS+terminal automation system)
Digital transformation in the energy industry could unlock as much as $1.6 trillion of value for the oil and gas industry, its customers and society, according to some estimates. New digital technologies combined with data-driven insights can transform operations, boosting agility and strategic decision-making and resulting in new business models.
In fact, research by the management consultancy Accenture shows that digital technology is now dominating every sector of the economy. The global digital economy accounted for 22 percent of the world's economy in 2015. And it is rapidly growing, as those numbers are forecasted to increase to 25 percent by 2020, up from 15 percent in 2005.
Digital technology is bringing with it unprecedented amounts of change. There are new technologies and solutions, more data, legacy and new systems to tie together, an upsurge in collaboration, new alliances and new startups.
Energy companies are paying attention as they move toward a more digital future. A recent Accenture survey found that despite the current industry downturn, 80 percent of the respondents said they intend to spend the same amount, if not significantly more on digital technology in the next three to five years.
Companies that successfully employ digital automation can transform operations and significantly improve their bottom line. Many in the industry anticipate that an increased emphasis on efficiency, reliability and safety will drive a new wave of demand for digital automation software, services and components.
A firm and robust commitment to digital automation will result in reduced costs, higher levels of productivity and increased performance for companies throughout the energy industry.
But there are pitfalls. According to a recent Forbes article, without an integrated, multiyear plan, energy companies risk investing billions of dollars in digital technologies while capturing few benefits. For instance, generating tons of data has no discernible value if a satellite uplink is to slow to transfer the data to operations teams.
Valuable information also can get jammed if companies neglect to connect information flows. For example, a company in the tanks and terminals sector might invest in a visual scheduling system with sophisticated routing capabilities. But if it fails to connect it to line management's scheduling systems, the data winds up stranded.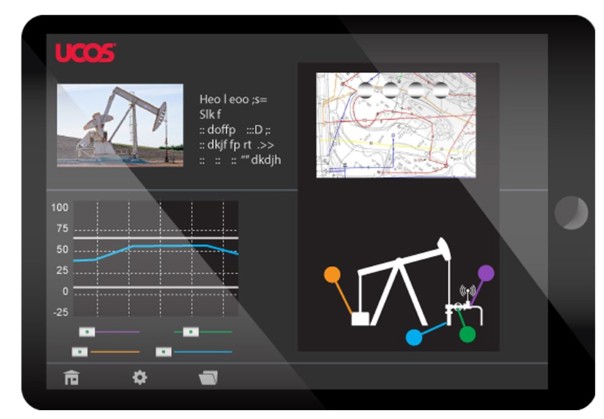 (Portable graphic interface receives data from LCC for observation and control of a tank monitoring system)
As in many other industries, energy companies are mostly unprepared to take full advantage of the potential in digital technologies. Most will need to invest in the capabilities of their teams, requiring a combination of recruiting fresh talent and teaching new skills to current staff. It also is important for companies to monitor key industry and technology trends, and decide whether to lead the industry as an innovator or act as a follower by quickly implementing tested technologies and processes, Forbes said.
One company moving forward with digital technology is TechnipFMC, which recently completed two projects providing automated measurement solutions to clients in the tanks and terminals sector. TechnipFMC is a global provider of subsea, onshore/offshore and surface projects serving the energy industry.
Biofuel and Ethanol Loading Skid
At the Soymet Biofuels Terminal in Rome, Georgia, company officials were looking to replace an existing biofuel and ethanol loading skid at their manual loading rack with third-party preset controls. The original project scope was to install a new loading skid. TechnipFMC's well-versed in providing comprehensive terminal solutions, offered equipment recommendations to help automate the loading skid.
The initial recommendations included an AccuLoad® electronic preset control system, Smith Meter® positive displacement meter and digital control valves. Citing budget constraints, Soymet rejected all but the preset control system.
Sensing disappointment from Soymet regarding its lack of an automated system, TechnipFMC recommended its digital terminal automation control system known as the FUEL-FACS+ system. Following a walk-through of the application, forms, reports, displays, tank gauging, search and security functions, Soymet placed its order for a total digital automation solution.
Soymet was impressed with the flexibility, scalability and functionality of the digital system and the potential for reducing its operating costs. As the company expands, it is considering installing additional digital systems at its other terminals.
Expansion and Automation of Asphalt Terminal
Another digital technology solution was provided by TechnipFMC at the Wolf Paving Asphalt Terminal in Oconomowoc, Wisconsin. There, company officials wanted to expand and automate an asphalt terminal with two tanks and a manual loading rack with no preset controls. The expansion included adding a larger storage tank and automating the manual loading and offloading racks.
Initially, Wolf Paving was going to have a PLC integrator perform the automation duties, including rack automation, tank gauging, pump start and valve control. PLCs, or Programmable Logic Controllers, are digital computers used for automation of processes in industrial settings.
Recognizing the cost-saving benefits of a more robust digital automation structure, Wolf Paving agreed to install the AccuLoad® electronic preset control system and the FUEL-FACS+ terminal automation system. Wolf Paving was particularly impressed with the tank gauging graphics and functionality, as well as a demonstration of a truck loading operation shown from both the driver's view and the inside operator's view.
The comprehensive digital solution successfully met Wolf Paving's expansion and automation needs by presenting a single-source approach to supply, engineering, service and support through the latest available technology.
These two projects represent just a small segment of what energy companies are accomplishing as part of an industry embracing digital transformation. The industry will continue to become more reliant on digital systems and automation to promote a faster, safer and more reliable delivery of products and services.
And as that reliance grows, industry leaders must recognize that culture change within companies is needed for realizing digital technology's full potential.
In a recent article published by Offshore Energy Today, a panel of energy executives agreed the future challenge associated with digital transformation is for work processes and culture to catch up with technological advancements.
To turn data into value, companies need to figure out how best to get people to interact with digital automation. As new digital solutions are deployed, the industry must make sure it has the personnel that can fully exploit the advancements.
One way to do that is through collaboration with partners. A high level of collaboration within the energy industry will help ensure that personnel have the expertise and forward-looking mindset to effectively employ digital advancements. A culture of sharing processes clearly has its benefits and will help advance digital innovations and expansion, the panel of executives concurred.
As the industry moves forward and discovers new and more creative ways to adapt digital automations, it will realize an ever-increasing array of benefits, including greater efficiencies impacting operations and saving even more time and money.
With digital tools and real-time analytics driving automation, companies, clients and other stakeholders are coming out on the winning side. Much like the Industrial Revolution, the digital transformation era is ushering in a new age of productivity and profits that can be shared by all.