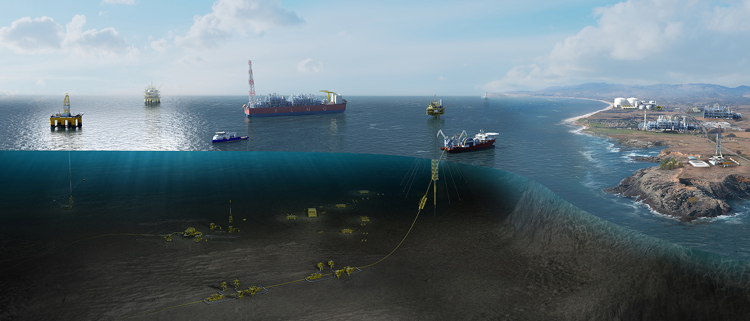 iEPCI™
Full field subsea development and integrated project execution
iEPCITM is TechnipFMC's unique approach to subsea developments, which integrates SPS and SURF offerings, from design to life of field services.
TechnipFMC is the only subsea provider with the capability to integrate the subsea production system (SPS) and subsea umbilicals, risers and flowlines (SURF) scopes. This allows us to efficiently execute an integrated engineering, procurement, construction and installation (iEPCI™) campaign and deliver and manage a fully integrated subsea system, providing superior services for the life of the field (iLoF®).
Through our integrated front-end engineering and design studies (iFEED®) we are uniquely positioned to influence project concept and design. Using innovative solutions for field architecture, including standardized equipment, new technologies and simplified installation, we can reduce subsea development costs and accelerate time to first oil and gas production.
We have high-tech facilities located near the world's main offshore oil and gas producing basins. Our facilities include subsea hardware, flexible pipe, umbilicals and reeled rigid pipe welding/spooling manufacturing plants, plus a fleet of specialized vessels for pipeline installation, subsea construction, diving support and heavy lift.
Integrated subsea business model
A strong commercial focus
TechnipFMC offers a strong commercial focus that has enabled the successful market introduction of an integrated subsea business model spanning the design phase through life of field services.
Our innovative business model is unlocking incremental opportunities and materially expanding the deepwater opportunity set.
Our integrated subsea services include:
Design
Engineering
Custom designed tooling
Procurement
Manufacturing
Fabrication
Installation
Life of field services
Lower costs, faster oil
Lower Costs
We are committed to delivering cost savings to our clients so their subsea projects are sustainable today and in the future.
Integrated solutions
More than surface-level, we go deeper by merging two subsea leaders in SPS and SURF to deliver a full water column solution. Clients choosing our integrated methods benefit from cost savings, optimized subsea architecture, reduced contractual risks and improved performance over the life of the field.
First oil faster
We deliver first oil faster through our integrated and early involvement approach. That means less design time, more project team efficiencies, less hardware cost and waste and a more productive supply chain. We also are redesigning our products with modular components so we can configure to order.
Making projects simpler, leaner and smarter
TechnipFMC is introducing a revolutionary product platform that makes subsea projects simpler, leaner and smarter. The smaller, modular designs use standardized components and 50 percent fewer parts to reduce engineering hours, enable easier installation and optimize field performance.
When combined with iEPCI™, Subsea 2.0 improves project economics and unlocks first oil and gas faster.