News - Press Release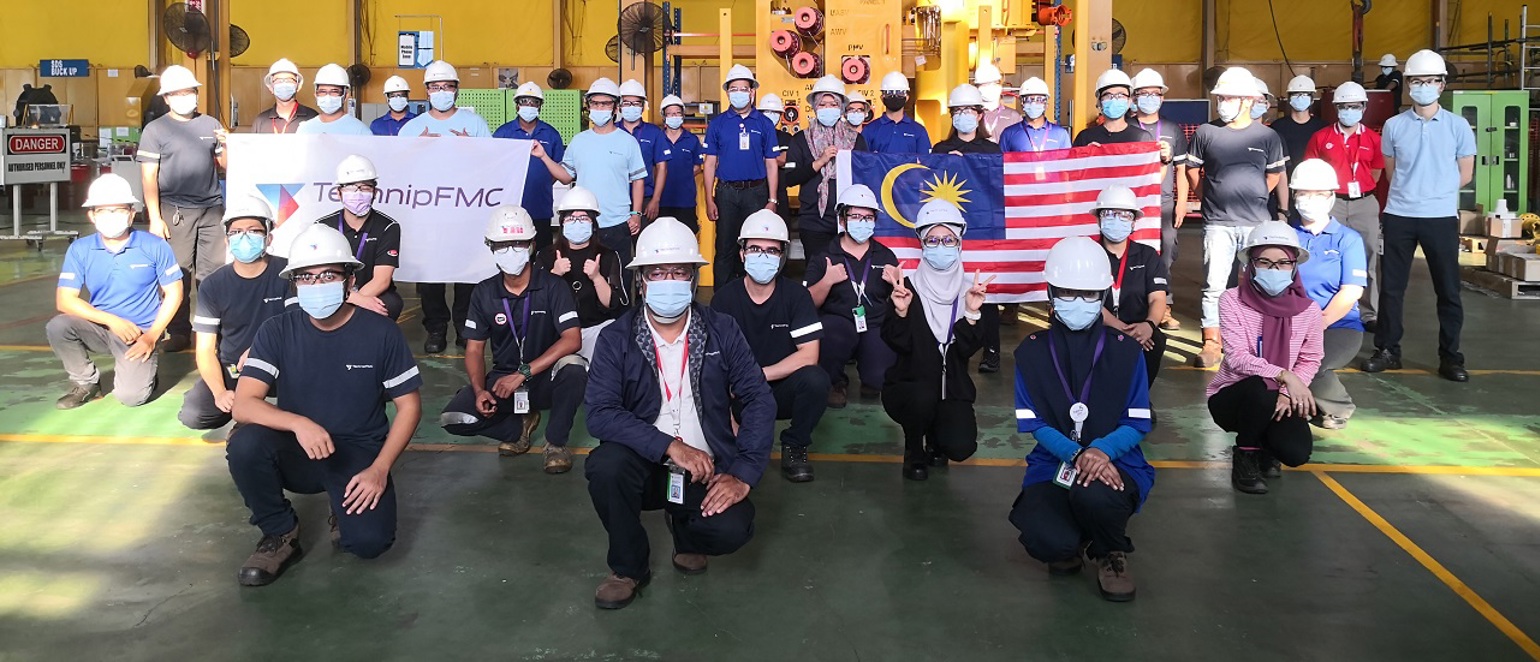 Against the challenging backdrop of COVID-19
TechnipFMC worked as a team across five countries on two continents to develop a shallow water wellhead system for Wintershall Noordzee B.V.
From Scotland to Singapore, TechnipFMC teams fostered a collaborative working relationship to complete the Wintershall Noordzee K18-G3 JXT-3 Shallow Water Xmas Tree and Drill-Through Wellhead System at our plant in Nusajaya, Malaysia.
This accomplishment marks TechnipFMC's first shallow water tree manufactured across plants in Nusajaya and Singapore and paves the way for other breakthrough projects, including the Golden Beach Gas Project in the Gippsland Basin off the east coast of Australia.
"The Wintershall Noordzee project has been a success because we as an organization work in a manner where collaboration, teamwork, diversity, trust and achieving together is promoted and celebrated through our core values, which allow us to realize our full potential and embrace all possibilities," said SI UK Lead Project Manager Iain Cardno.
The unbelievable team effort was across TechnipFMC's Surface International and REMS organizations in locations spread out over five countries and two continents, including Nusajaya, Malaysia; Singapore; Dunfermline, Scotland; Sens, France; and Nieuw-Amsterdam (Schoonebeek), the Netherlands. The collaborative working relationship led to the successful delivery of the project despite the added complexity of the unusual working protocols brought on by the COVID-19 pandemic. With Project Management, Engineering, Manufacturing and Aftermarket supporting the effort, the wellhead system was completed with fewer than 10 face-to-face meetings over a 14-month period.
"It wasn't ideal, but our team interacted professionally and made it work," Cardno said.
The Wintershall Noordzee K18-G3 project is a continuation of a series of orders received from them over the past 10 years, with this being the fourth system supplied to the K18 location. Previous systems were engineered and manufactured in Sens and Dunfermline, making the shift to the Malaysia and Singapore plants more challenging.
The newly supplied equipment to the G3 system encompassed a previously supplied design and system that underwent refinements and improvements to help ensure a smooth transition to the Malaysia and Singapore plants.
"This has been far from a simple repeat order," Cardno said. "Over a 10-year period we have seen how much technology has advanced and how many of our parts have been replaced with better alternatives. This resulted in numerous engineering checks for suitability and replacement change reviews."
Once the manufacturing was concluded, teams in Malaysia and Sens worked diligently together to ensure the assembly and testing phases were successfully completed even under extraordinary times.
With the current global situation, Wintershall Noordzee B.V. has placed the G3 system in storage and is assessing whether it will be used on a new well or as a sidetrack of the existing G2 system at the K18 location.
Even through this unprecedented time, we were challenged with finding new ways to work as one team and to have continuous virtual communication with our valued customer, to find alternative ways to meet their expectations even under the pandemic circumstances. We are grateful for our employees and customers, and the hard work and collaboration world-wide that has made this project a huge success.