News - Press Release

TechnipFMC's multiphase mudline pump has recently been deployed in Shell's Parque das Conchas (BC-10) development. The operator approached TechnipFMC for alternative subsea boosting options to reduce field OPEX and increase redundancy for its ultra-deepwater brownfield.
With the objective of improving availability and reducing maintenance costs over the original, traditional electrical submersible pumps (ESP), TechnipFMC proposed a smaller, lighter, more reliable mudline multiphase pump as a solution to Shell's request of reducing lifecycle costs at the development.
BC-10 is located in water depths up to 2,000 m (6,560 ft) in the Campos Basin off the coast of Rio de Janeiro. The three-field, phased development first entered production through the floating production storage and offloading (FPSO) vessel Espírito Santo about 10 years ago. Reservoir conditions are extremely challenging, with seabed temperatures near freezing, and low-pressure reservoirs up to 20 km (12 m) apart.

These conditions require a unique method of subsea separation and boosting for the well fluids to reach the FPSO. The original field in the development featured ESPs mounted in vertical caissons on artificial lift manifolds. Each of these form one retrievable unit that is about 100 m (300 ft) long, weighs more than 120 tons, and required a rig intervention. These ESPs had been unreliable and required a more expensive mobile offshore drilling unit (MODU) with a derrick for intervention during maintenance.
Innovative pump technology requalified, retrofitted to existing equipment

The full scope of the contract included a subsea multiphase boosting system equipped with a 2 MW helico-axial TechnipFMC/Sulzer pump driven by a permanent magnet motor and packaged in a retrievable modular unit, including power distribution, jumpers, tie-in structure, topsides and subsea control system.

All new equipment was required to be retrofitted to existing infrastructure and work in conjunction with the ESPs already deployed in the field. Certain limitations were established on the scopes of topsides and subsea changes, as well.

To best meet Shell's needs as well as the specific challenges of the development, the previously qualified 3 MW multiphase TechnipFMC/Sulzer helico-axial pump underwent some specific design modifications and component requalification. The high-speed permanent magnet motor, capable of 6,000 rpm continuous operation, was scaled down to 2MW to better suit the amount of available topsides power. The design pressure was increased from 5,000 psi to 7,500 psi for the ultra-deepwater environment and operational needs. The mudline multiphase pump's increased reliability would also reduce the frequency of interventions.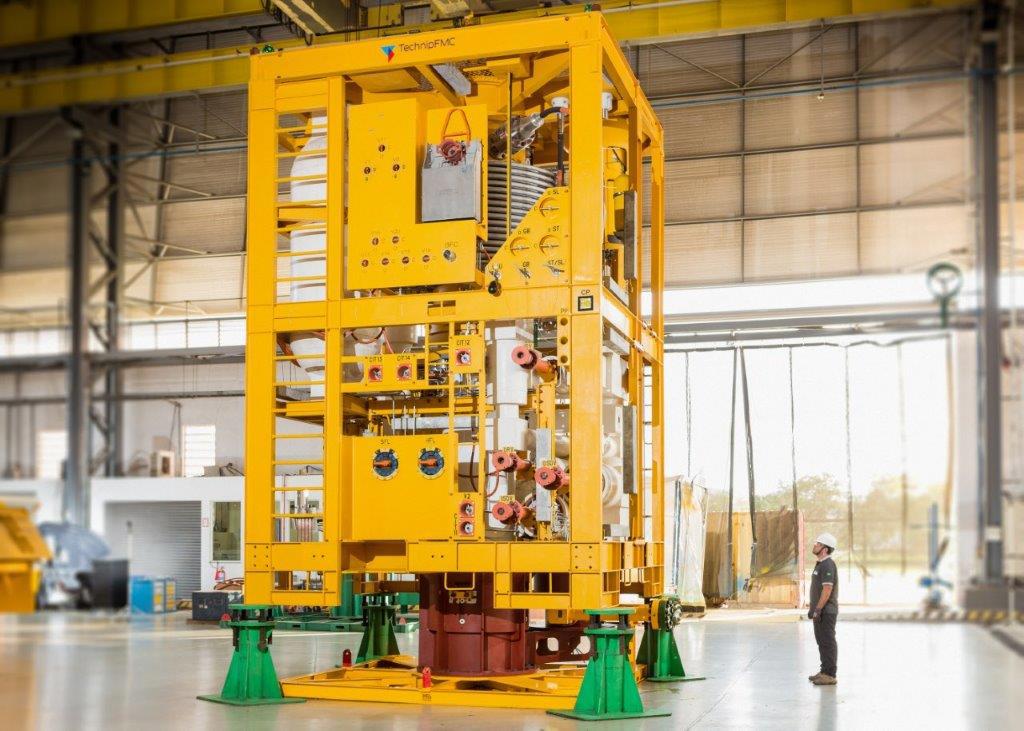 TechnipFMC's mudline multiphase pump was recently installed in the BC-10 field, Shell's ultra-deepwater brownfield development, to improve availability and reduce maintenance costs to existing field infrastructure

Improving reliability despite challenging conditions

As requested by the operator, the pump system is compatible with the development's existing ESPs and can operate in parallel, enabling phased future upgrades. In this case, the caisson could be completely eliminated and replaced by the new unit that weighs less than 80 tons in-air.

During November 2018, TechnipFMC worked with Shell to install the equipment in about five days.

The expectation from both Shell and TechnipFMC is that the mudline pump will be more reliable in terms of run life when compared to the ESPs, which will have an impact on OPEX reduction due to the reduced number of interventions. Further, when interventions are needed, a readily available multipurpose service vessel can be used rather than a rig.

Assembled and tested at TechnipFMC's Technology Center in Rio de Janeiro, the mudline multiphase pump is serviceable in-country, allowing for a turnaround service of less than two months, which further decreases operational costs for the client.