News - Press Release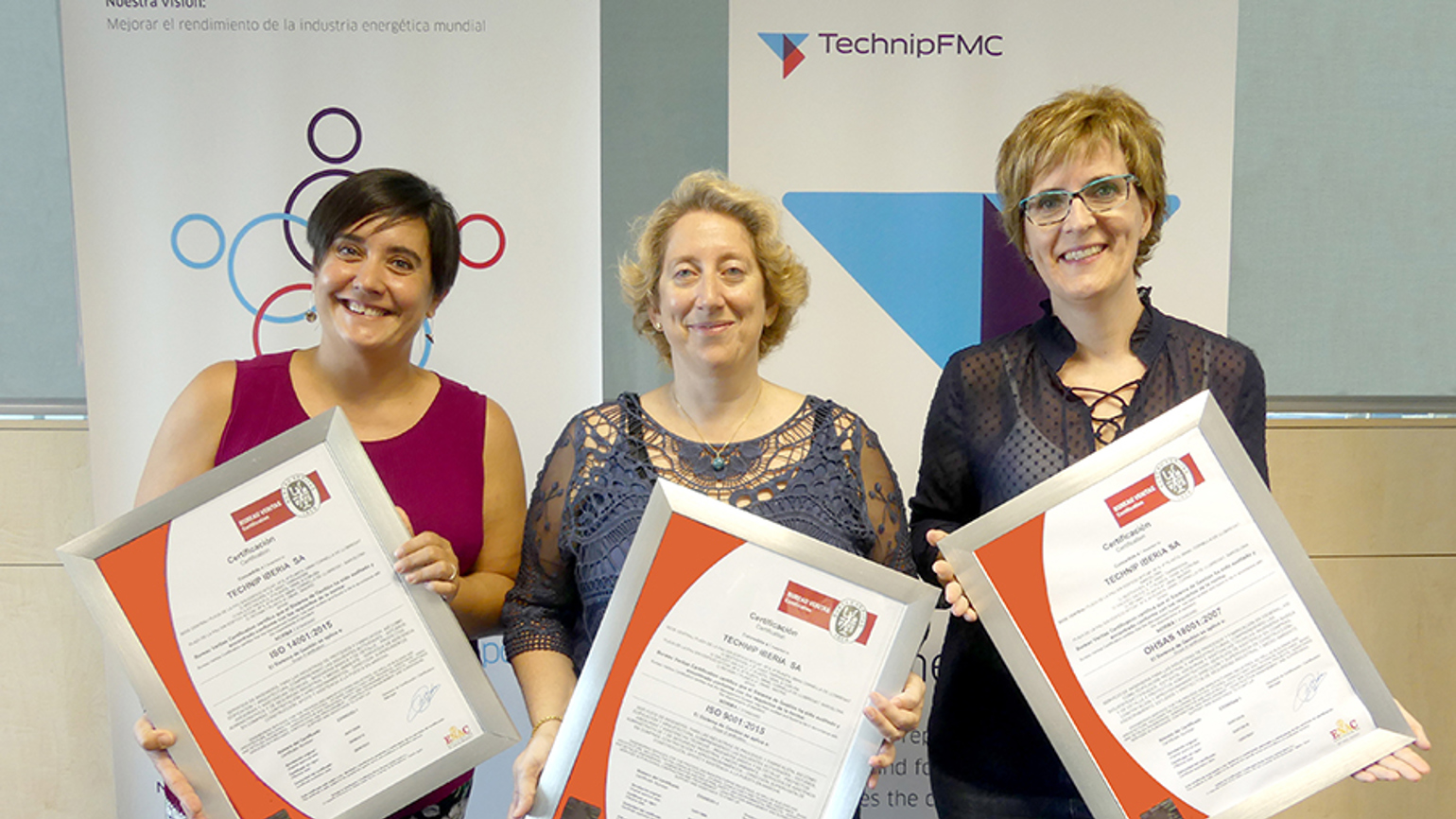 TechnipFMC today announced that it has obtained the recertification of its Quality, Safety, Health and Environment management systems for its Spanish Operating Center by Bureau Veritas. All TechnipFMC offices located in Cornellà de Llobregat (Barcelona), Tarragona, Madrid and A Coruña in Spain, comply with the new versions of the ISO 9001:2015, ISO 14001:2015 and the OHSAS 18001:2007 regulations.
The implementation of the new version of the ISO 9001:2015 Quality Standard has allowed TechnipFMC in Spain to focus on identifying the organizational context of the company as well as the stakeholders' expectations, on the process-based approach and the risk management as ways to plan controls where risks and opportunities are higher.
The main objective of the new ISO 14001:2015 Standard of Environmental Management Systems version has been to incorporate as integrated aspects of the business strategy, both the leadership in environmental management and environmental protection and the approach to consider the environmental impact of services throughout their lifecycle.
Finally, the OHSAS 18001:2007 Standard establishes the requirements that the occupational safety and health management system of a company such as TechnipFMC needs to comply with to effectively detect, eliminate and/or minimize its activity-related risks and those of its clients, to which its employees and other stakeholders (suppliers, external staff, etc.) are exposed, to work on continuous improvement.
These official acknowledgments are a seal of guarantee for our customers, as they confirm once again that TechnipFMC performs a good management of the risks and environmental aspects of its activity and effectively meets the system's requirements of Quality, Health and Safety at work.
####
About TechnipFMC
TechnipFMC is a global leader in subsea, onshore/offshore, and surface projects. With our proprietary technologies and production systems, integrated expertise, and comprehensive solutions, we are transforming our clients' project economics.
We are uniquely positioned to deliver greater efficiency across project lifecycles from concept to project delivery and beyond. Through innovative technologies and improved efficiencies, our offering unlocks new possibilities for our clients in developing their oil and gas resources.
Each of our more than 37,000 employees is driven by a steady commitment to clients and a culture of purposeful innovation, challenging industry conventions, and rethinking how the best results are achieved.
To learn more about us and how we are enhancing the performance of the world's energy industry, go to TechnipFMC.com and follow us on Twitter @TechnipFMC.
Contacts
Nerea Sala-Alvarez
communications.spain@technipfmc.com
+34 93 413 98 00