News - Press Release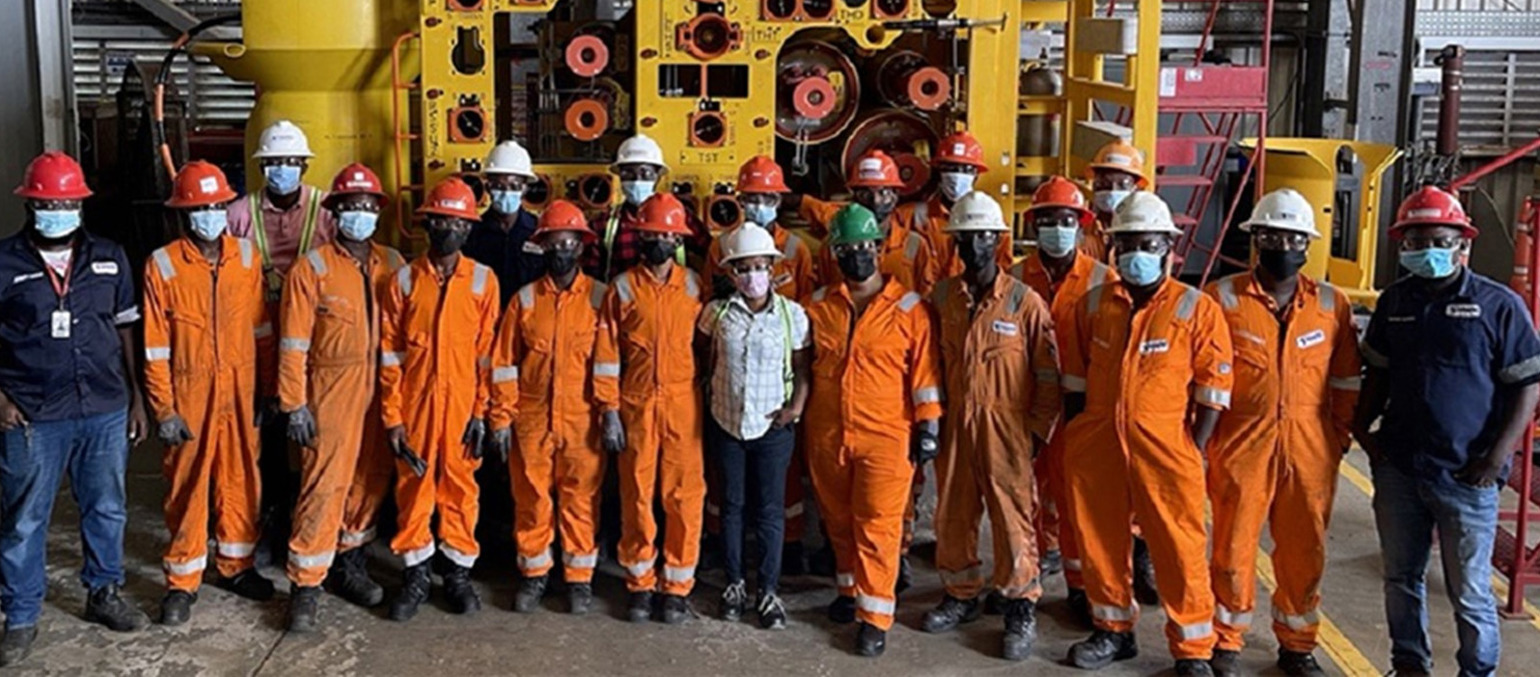 The team at TechnipFMC's Takoradi base in Ghana recently took some time out to celebrate the completion of the first subsea tree assembled there in five years – a project made possible by the skills of Ghanaian workers.
The tree is the first of 10 being manufactured in Dunfermline, United Kingdom, then assembled and tested in country for Tullow's FFD project. And there's more work ahead for the Ghana team on Tullow's Jubilee South East Development.
Philip Ofori, Quality Manager, has been with TechnipFMC for nine years and helped put together previous trees at Takoradi. He's delighted that more of this type of work is coming – particularly because of the opportunities for Ghanaian workers.
Philip said, "It's been five years since we completed our previous tree assembly. We've had a lot of changes since then, with new personnel coming onboard and people who have been here longer being promoted or working in specialist roles.
"I was a product engineer back then; now I'm a quality manager. People like me are able to pass on their experience and help others build up skills."
The more experienced team members at Takoradi have also seen the benefits of a move towards greater standardization of subsea products.
Jerry Addo, an Operations Specialist who has been with TechnipFMC for seven years, said, "The big difference is that we're now using a lot more standardized approaches and procedures – we can work faster and we have the tools and experience to find solutions."
That methodology will be taken into the work on Jubilee South East, an integrated engineering, procurement, construction and installation (iEPCI™) project which will extend the existing Jubilee field. Along with tree assembly, a number of subsea structures, including production and water injection manifolds, will be fabricated in-country. The local team is ready to tackle the project.
Blake Skaggs, Onshore Operations Manager, is one of a handful of expatriot workers at the base. The other expats include specialists from Nigeria.
Blake said, "The COVID-19 pandemic was a big driver for a lot of internal movement in our Ghana team as expats were recalled home, opening up slots for our experienced people. Now we're moving towards a fully Ghanaian team. By investing in our people here, training them on site and abroad, we've got a stream of talent available."
Albert Atsu, Senior Workshop Technician, added, "There are things we keep at the front of our mind every day. One is making our clients happy – we want to deliver for them, to deliver quality. And safety is always the top priority.
"We've had great opportunities to learn and develop, which gives us confidence that we can do more."