News - Press Release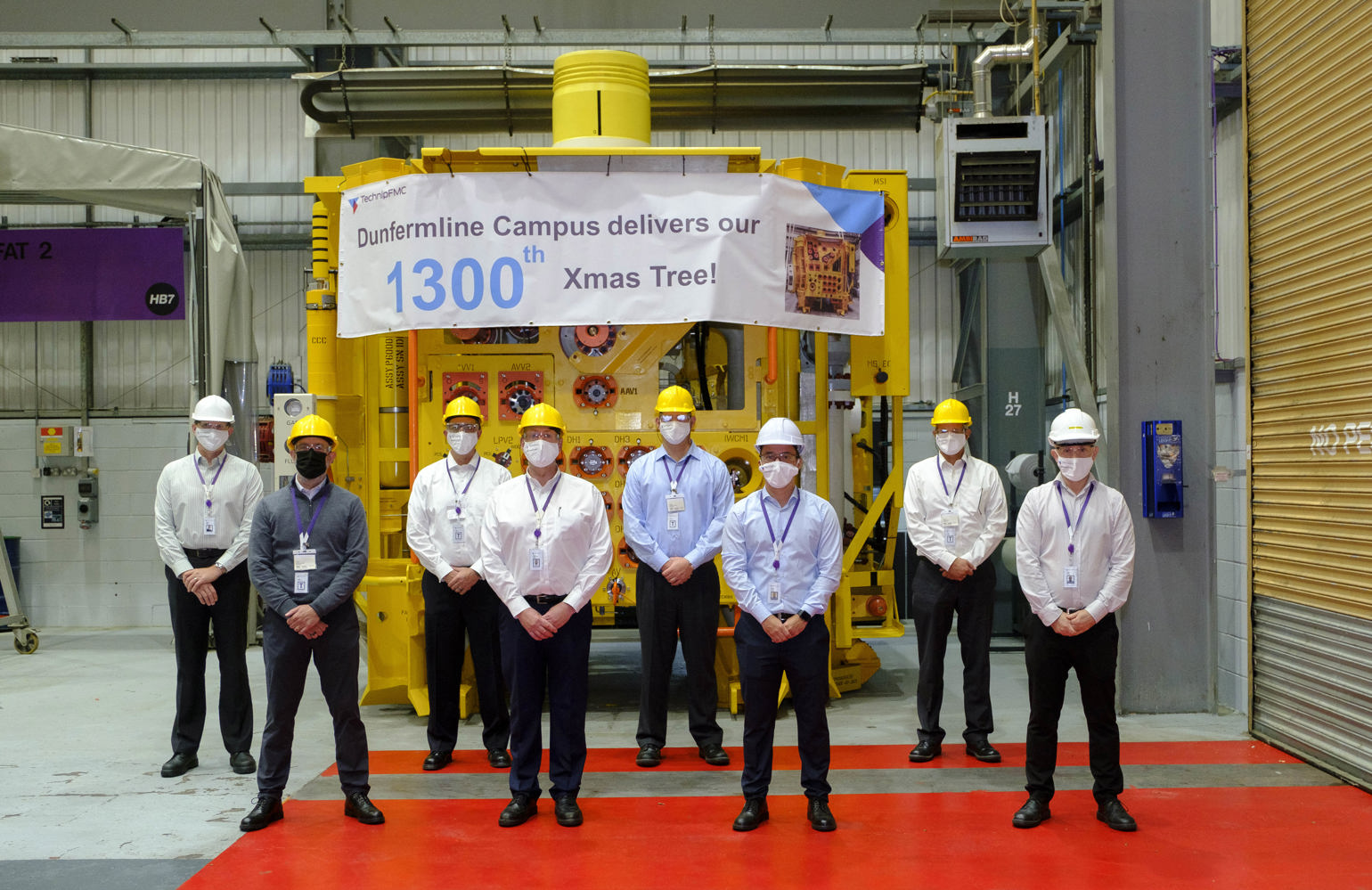 On September 14, 2021, our Dunfermline, U.K. Campus celebrated reaching a momentous milestone: the completion of its 1300th subsea tree (XT).
Bruno Pinho, Managing Director, Dunfermline Campus, has shared, "People are the most valuable asset that we have, and it's our consistent investment in people and talent that has led to this huge, industry-wide milestone. Continuous improvement is at the heart of our work in Dunfermline and I'm delighted that we're seeing our Lean way of working drive our success."
Since its opening in 1974, the facility has delivered XTs to 34 customers in 21 countries. One third of the deliveries have been for Equinor, with the 1300th XT going to the Snorre project offshore Norway.
Gordon Duthie, Production Lead, Assembly & Test Well Control, has been with the company for 31 years and has witnessed many changes. He said, "The biggest change in how a tree is manufactured since I started here is the information we are given for the build and test of the tree. We didn't have computers at every work station and had to rely on drawings and part reports. I've been fortunate to have worked here from before the 100th completion to this new milestone and feel proud to have been involved in this achievement. The desire and enthusiasm to succeed throughout the campus has played a big part in us getting here."
This significant achievement comes despite the challenges faced due to COVID-19. With some of the workforce at home and some on site, client delivery commitments were still met.
Pride among the Dunfermline team has also played a large part in the success of the plant.
Ewan Reed, Director, Manufacturing Operations, added, "This is a TechnipFMC record! We haven't achieved this on any other of our sites and it's a big deal because it's a testament to our people, the ability of our people, and the skills we have in-house here."
Talent is always being developed in Dunfermline, with new apprentices being regularly brought on board. Emma Sharp is an apprentice in Assembly and Test and worked on the production of the 1300th XT. She said, "I feel very proud to be part of the company and team hitting this momentous milestone which shows that we work hard."
In support of our sustainability foundational belief, the campus has also arranged for 1300 trees to be planted around the world, which will sequester an estimated 390 tons of carbon.