News - Press Release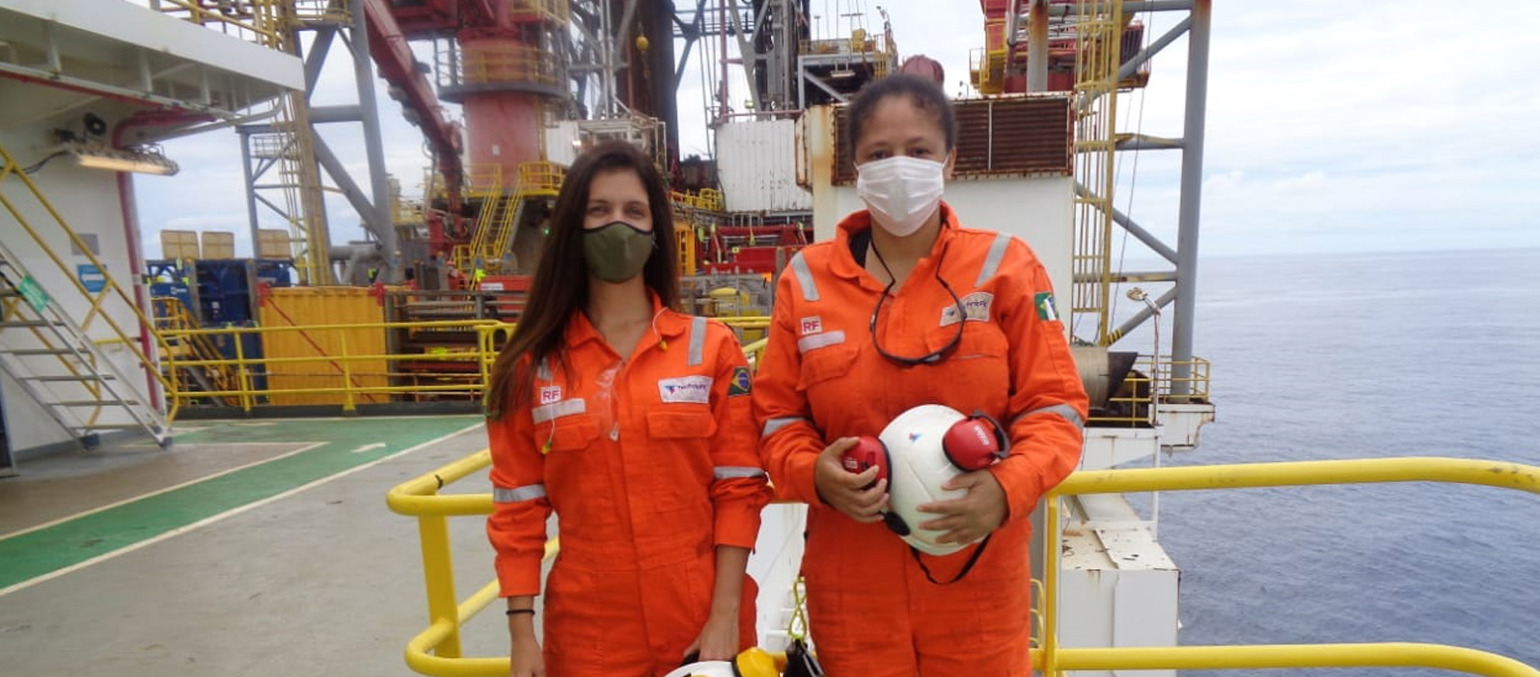 Offshore Brazil, a women-only team racked up a first for Subsea Services during operations for Petrobras in the Pre-Salt Field. At Manufacturing Hub Rio, we can find women in operational positions on the shop floor. On the vessels acting on Brazilian projects, there are women working onboard. Recently, our flexible plant in Açu has hired female professionals to work in operational positions. These are some examples of how we are advancing gender diversity at all levels. And, important to highlight that the position of Country Manager in Brazil is currently held by a woman, Luana Duffé.
Luciane Matos, Offshore Services Technician, and Aline Teixeira, Facilities Engineer, assembled the Pressure Downhole Gauge (PDG) connector in the first offshore controls systems activity we have performed entirely by women for Petrobras in the field.
The PDG connector is responsible for the shaft's pressure and temperature readings, which are extremely important for the reservoir's productive life.
Luciane and Aline are among the female professionals working in operational roles for Subsea Services in Brazil. Luciane said, "This was the most significant shipment of my career. In addition to being an activity 100 percent carried out by women, I had the opportunity to lead this operation with Aline. We had the full support of the coordination and our shipmates.
"We met women from other companies on the platform and exchanged experiences. We could notice the advance of gender equity in the offshore environment in small details, such as having female cabins and bathrooms, for instance. I believe this is just the beginning of an increasingly diverse environment."
Aline said women were moving into roles traditionally dominated by men. She added, "It's a great experience to contribute to this recognition of the women´s value, to the deconstruction of paradigms created by generations and to show that we are competent and able to perform any task, just as men are. I am proud to be a part of this change. Times have changed and we are gaining ground."
At Manufacturing Hub Rio, welder Giselle Santos works on the shop floor, where she created a device to fix lines in instrumentation welding that improves quality and safety.
She said, "TechnipFMC is a company that welcomed me and allowed me to contribute effectively in the development of welding activities. I have identified a point of improvement in my department and I felt confident to develop this device, to increase productivity, reduce non-conformities and keep everyone safe."
Our vessels are also totally committed ensuring gender equity. You can find an increasing number of women working directly in activities onboard our Brazil fleet. One important step in favor of gender diversity onboard was the creation of the Pregnancy Policy for offshore women. This action guarantees an even more welcoming environment during pregnancy, so that they can enjoy this very special moment with tranquility, well-being and safety on board.
"We have implemented several actions to ensure the development of a supportive environment for our employees. We are seeking to increase diversity on board through gender equity, providing equal opportunities for everyone", said Vanessa Pinto, Human Resources Manager.
Recently, our flexibles plant in Açu has hired five female professionals to work in operational positions. The new hires were already employed in the company as young apprentices and interns, developing their technical capabilities and supporting important operations. Now, in total, the unit has seven female employees in the operational area. Their journey is a real example of TechnipFMC's commitment to develop and retain their talents.
"I started in the company at the Quality department, and then I was invited to work in an operational position in Açu," said Edilaine Manhães, Production Officer. "I was the first woman to occupy a position in the production area.
"When I received the offer, I immediately said yes, because this new position would take me out of my comfort zone and allow me to learn something new. I was welcomed by everyone and my colleagues were willing to share their knowledge with me.
"I feel like I am an important part of the operation, and I know my presence breaks paradigms. I´ve achieved my spot with respect and confidence. As women, we can do whatever we want, and achieve whatever we intend to."
Amanda Martins, Production Support Officer, added, "Since my first day at TechnipFMC I felt safe and flattered with the opportunity of being one of the first women working in the operational area of the Açu plant.
"I am very happy to be a part of this story and very comfortable in the environment. I am learning a lot and enjoying the activities I am performing."
Pedro Assef, director of Flexible Operations in Açu, concluded, "In a traditionally male environment, these hires are very significant, because they demonstrate our consistent and determination towards a more diverse company in all areas."