You'll find the technical challenges with floating foundations are more complex than those with bottom-fixed solutions. 
A typical inter array cable used with a bottom-fixed wind turbine is relatively simple and isn't designed to be flexed repeatedly. In contrast, a dynamic inter array cable is designed to move around in the water and on the seabed, in rhythm with the floating wind turbine and adapting to the harsher environment of the deep waters. 
Do you or your engineering team have experience with wind developments?
Integrating that dynamic power cables into an engineering, procurement, construction and installation (EPCI) project removes a multitude of risks, including those that arise during the interface between a cable supplier and cable installer. Built on an understanding of the way every element works together, the Dynamic Inter Array Cable System removes many difficulties before they have a chance to happen.
This understanding includes knowledge about how cable installation affects cable reliability; how sea waves and current affect cable aging; how to address overbending at the connection between the dynamic power cable and the floating wind turbines; how to add extra mechanical protection and much more.
More than dynamic power cables
Simply put, the Dynamic Inter Array Cable System connects floating wind turbines together and to a substation, which may be offshore or on land. Its cables are long enough and flexible enough to move with the floating wind turbines and offshore substation as they react to the changing environment. The substation is linked to the local electricity supply grid.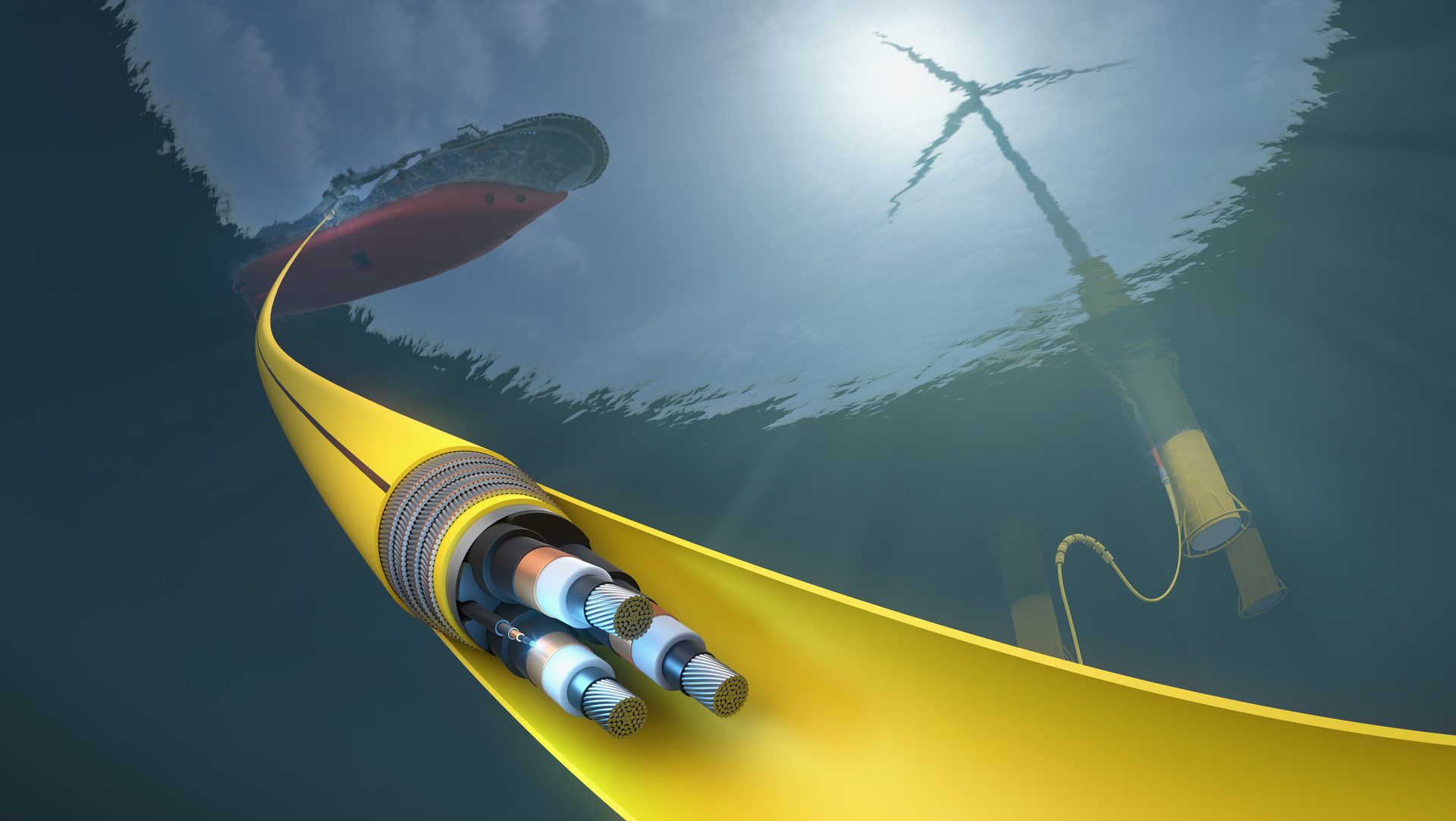 The dynamic power cables are part of a system that adapts to an ever-changing environment
How a Dynamic Inter Array Cable System works
To ensure the system remains operable, even in the extreme conditions found offshore, a range of important components and mechanical protection ancillaries work together seamlessly: 
Cable Protection
Prevents wear and tear of the cable.
Cable Protection
Prevents wear and tear of the cable.
Cable Protection
Prevents wear and tear of the cable.
Cable installation is technically demanding and requires vessels to execute. Using the right offshore vessel can extend the limited timeframe during which that is possible — for example, through the ability to install when waves are higher. Fleet management ensures the correct offshore service vessels are properly scheduled and take advantage of the benefits they enable, such as a longer weather window for installation.
The challenges range from the proximity of the service vessel to the dynamic sections on either end of the cable, to any of the typical failure modes caused by manipulation or handling of the cables.This could be over bending or tension, torsion, axial compression or abrasion.
Even if there are no installation issues, the materials that make up the Dynamic Inter Array Cable System will age due to motion, electrical stress or heat — the cables generate much heat as current flows through them. Service vessels and careful fleet management will be needed for maintenance to address this without interrupting power production. The condition and performance monitoring surveillance system supports this by enabling proactive maintenance, with a 24/7 collaborative expert environment for diagnosis and problem solving.
Installation requires
vessels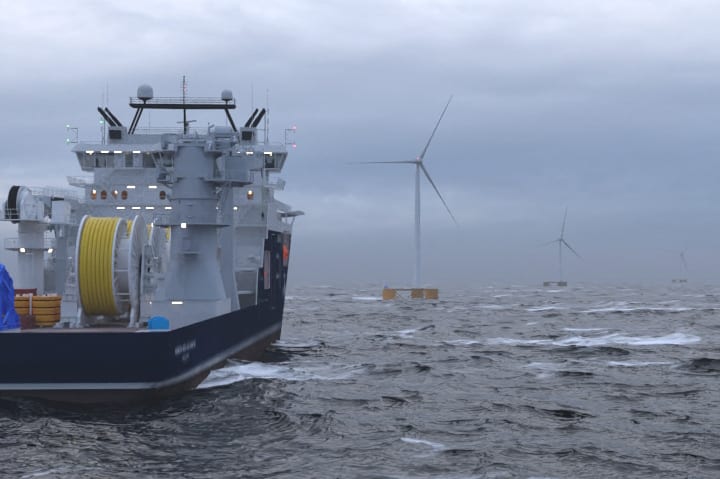 Offshore service vessels are needed for installation and maintenance.
Service vessels are needed for installation and maintenance.
The technical complexity and risk associated with the supply of array cables for floating wind should not be underestimated. For example, installation between floating platforms presents challenges unlike those found with bottom-fixed wind — they are more akin to conventional subsea dynamic products. The Dynamic Inter Array Cable System protects against increased risk of product damage and higher project costs by considering installation at the same time as all other engineering rather than sequentially at the end of the design phase.
This comprehensive approach mitigates risk to deliver a reliable solution. designed for your floating offshore wind development. Inherent to the model is that every element must work together. This creates efficiencies at every step., such as continuity of personnel throughout the project and the ability to secure capacity in a market with supply chain challenges, as well as avoidance of the knock-on effect of any single element not working well with others. Your floating offshore wind development being faster to first power than otherwise possible is a bonus.
There is a valuable transfer of competence here from the oil and gas industry to floating offshore wind. TechnipFMC has a track record of installing dynamic products offshore and the fleet of service vessels that are needed for this.
Over 25 years, there have been
zero cable failures. 
Not only has TechnipFMC delivered large-scale subsea projects, we have also delivered to floating offshore wind projects. Our fabrication base in the UK manufactures dynamic power cables near a number of floating offshore wind developments. Placement of the factory near the floating offshore wind development site is yet another area of efficiency that can ease the schedule and other issues that might arise during the transfer and installation of cables.
Applying our experience to the use of dynamic power cables for floating offshore wind, TechnipFMC has identified key commercial and integrity risks that are best addressed through the concurrent engineering approach utilized by the Dynamic Inter Array Cable System.
Ongoing technology developments show that floating offshore wind is ripe for the use of the Dynamic Inter Array Cable System.
On the front line of this change is Dr. Alan Dobson, who has worked in subsea engineering and research for more than 25 years. In a 90-minute webinar, he shares his expertise, highlighting how cable technology guarantees system integrity.  
Find out what's happening. Join Dr. Dobson. 
He'll also be at the Floating Offshore Wind 2023 Conference & Exhibition in Aberdeen October 4th-5th. Visit TechnipFMC at stand H36.
The expert shares how the technology is innovating