Getting your power from a floating offshore wind farm to shore is a radically different challenge for floating offshore wind farms.
To satisfy our world's growing need for renewable power, wind farms are moving further and further offshore and into harsher and more hostile environments. This brings with it the need for floating offshore wind solutions. A problem that might be relatively easy to solve on a bottom-fixed wind farm becomes a different and more complex one on a floating offshore wind farm.
Complexity in a harsh environment
Offshore service vessels are needed for installation and maintenance.
Cables used for floating offshore wind must be dynamic and durable
This wind farm's cables are in a harsher environment and will be moving with the waves and current throughout their life. The situation doesn't just demand flexibility — it also demands durability. Whereas bottom-fixed developments can manage with static cables, floating offshore wind requires highly dynamic strong and flexible cables connecting the floating wind turbines together. Real-world use has shown that dynamic cables have worked well for decades in these demanding situations.
These cables are just one element of the offshore wind development, and as the primary source of energy transmission from the floating offshore wind turbine to the onshore grid, much is riding on their performance.
Floating offshore wind has many plusses — not least greater power generation, but it also comes with greater complexity. In this unpredictable setting of constantly moving parts and fast winds, it is important to reduce the risk of failure.
Subsea cables, responsible for roughly 80 percent of wind insurance claims, are seen to be the element with the highest risk for failure. The move to floating offshore wind is expected to increase the losses and associated costs, and the insurance needed to develop and operate these fields requires some certainty against these risks.
Management of the inherent risk of subsea cables is arguably the greatest benefit using a Dynamic Inter Array Cable System has to offer.
The Dynamic Inter Array Cable System and risk
Let's look at three key risk areas where it has a clear impact.
Use of the Dynamic Inter Array Cable System in the deep offshore waters makes good business sense. TechnipFMC New Energy Strategy Director Benjamin Buhot will show you how.
He'll talk about the unique ways the Dynamic Inter Array Cable System has the scope to help you manage the bottlenecks and hurdles that are sure to come. What are your floating offshore wind development's needs?
Get up to speed! Join Ben.
The new energy leader shows what's changing
The Dynamic Inter Array Cable System keeps things on track because it covers not just one element but every element and step involved. Schedule control is there from the starting point of cable manufacture all the way through to power transferring from the floating offshore wind farm to the substation. This significantly minimizes processes, handoffs and interfaces and creates opportunities to optimize all factors involved.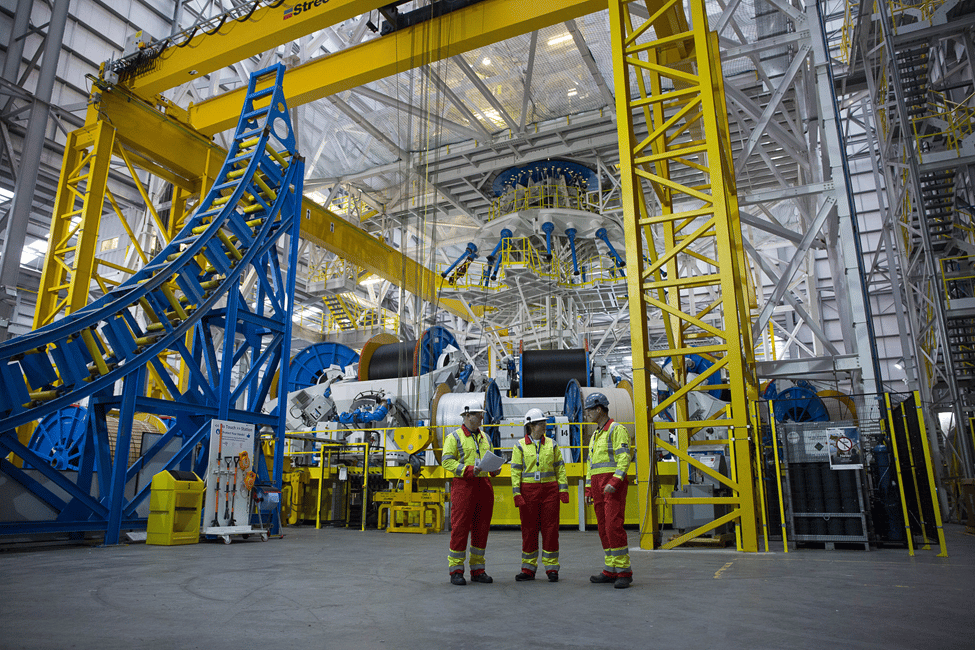 TechnipFMC manufactures cable for floating offshore wind at the Newcastle facility 
The first point of managing the integrity and reliability of the system is ensuring that the Dynamic Inter Array Cable is manufactured without any inherent defects. Installation is when any defects could be introduced to the floating offshore wind development. It is under the Dynamic Inter Array Cable System warranty to manage these steps and to ensure the reliability of every building block during its service life.
If the building blocks of the Dynamic Inter Array Cable System are being optimized, there is already control of schedule and reliability and cost risks are managed. There won't be cost inflation due to poor scheduling, downtime, service or installation failures or manufacturing defects.
Floating offshore wind is a developing area with many getting involved who don't have subsea experience and don't fully understand the risks involved. The Dynamic Inter Array Cable System builds on knowledge and lessons learnt from the oil and gas domain that apply to floating offshore wind.
TechnipFMC has supplied dynamic systems to the oil and gas industry for 30 years and dynamic power cables for more than 25 with zero failures. This background is pivotal to providing a unique robust and proven reliable solution with the Dynamic Inter Array Cable System.
Offshore dynamic experience
reduces risk