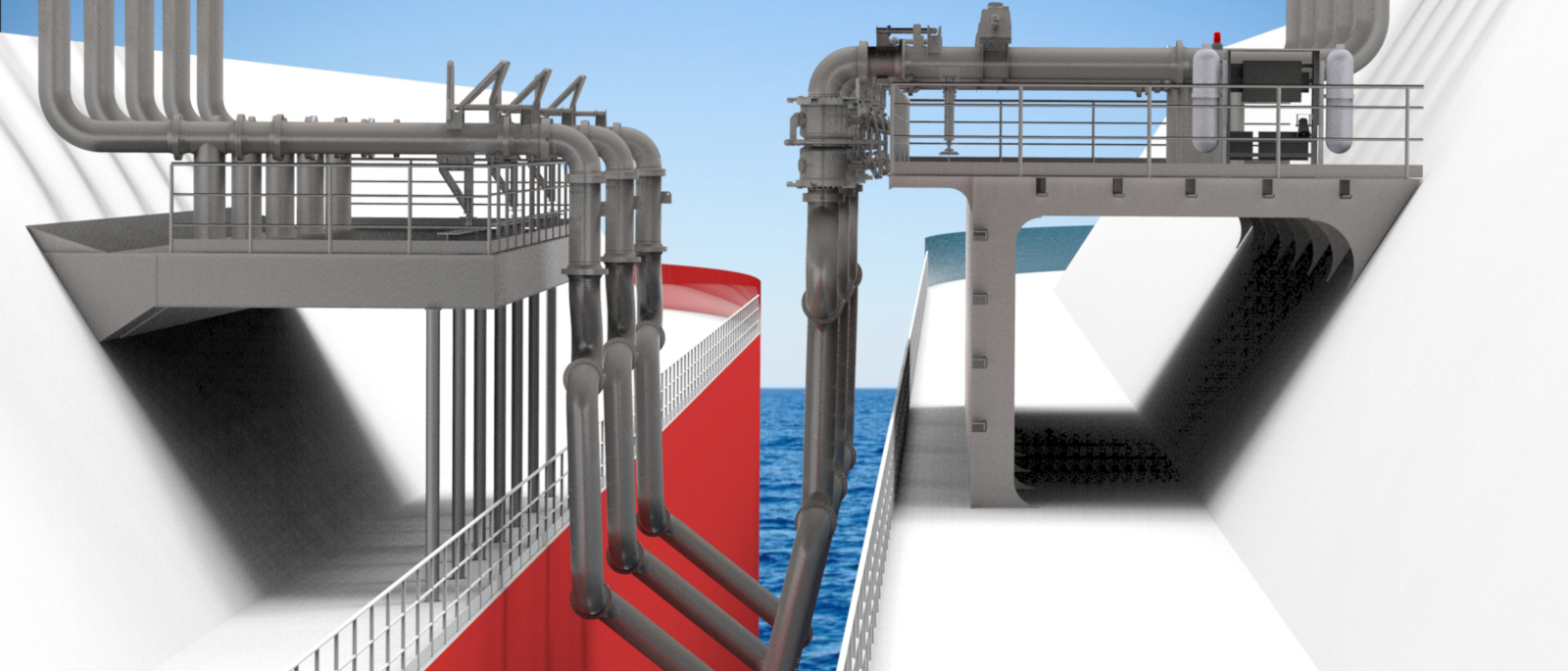 Feature | October 01 2018
ARCOS: Advancing Ship-to-Ship LNG Transfer Solutions
TechnipFMC is developing the next generation of ship-to-ship LNG transfer solutions. The new ARCOS takes performance, safety and reliability to a higher standard
In 2006, the first commercial ship-to-ship (STS) Liquified Natural Gas (LNG) transfer involving a large-scale LNG carrier and a Floating Storage and Regasification Unit (FSRU) took place. At the time, the transfer operation was the first of its kind.
Since then, about 30 FSRUs have been brought into service, carrying out thousands of routine STS LNG transfer operations worldwide.
The LNG industry continues to evolve and has become increasingly demanding for FSRU technology to increase regasification and send-out capacity, as well as optimize STS LNG transfer operation time. TechnipFMC now offers an alternative transfer system to the existing cryogenic hose-based solution for STS LNG transfer that enhances operators' safety and reduces ship-to-ship LNG operation time.
Called the Articulated Rigid Catenary Offloading System, or ARCOS, TechnipFMC's new transfer system consists of a set of 16-inch product lines self-supported and composed of articulated rigid pipes. The innovative system combines the advantages of both hose-based solutions and conventional loading arms.
Lean and Simple Solution
ARCOS is a light weight solution that does not require major structural FSRU modifications at the shipyard. It is composed of three to four product lines depending on the transfer flow rate target and can be handled with an FSRU or LNGC crane. ARCOS also limits the number of connection pieces compared to other STS operations that require multiple liftings, flanging, bolting and sealing.
Safety
Minimizing the number of product lines optimizes the connection and disconnection phases and the lifting and manual interventions for each transfer operation, maximizing safety. ARCOS integrates individual emergency release systems for each line consisting of double ball valves and collar similar to loading arms to safely disconnect the systems. The position of the ARCOS is monitored at all times by an embedded SIL 2 ESD detection system, which triggers the required ESD sequence in case of accidental drift between the two vessels.
Performance
ARCOS' use of smooth bore rigid pipes results in significant reduction of pressure loss across the transfer system and maximizes the transfer rate to the same level as conventional loading arms. Overall, ARCOS can reduce the offloading operation time by as much as 40 percent.
Versatility
ARCOS is a standardized product for STS LNG transfer. A wide range of design parameters, including vessel size, geometrical manifold configurations, environmental conditions and wave motions, were considered in the design phase to optimize the system's versatility and ensure its compatibility with standard LNG carriers.
Predictability
The integrity of ARCOS is fully predictable, backed by specific offloading situations demonstrated by numerical simulations and based on TechnipFMC's vast experience in engineering offshore LNG loading arms.
Reliability
ARCOS integrates field proven components, swivel joints and emergency release systems relied on for years in successful loading arm operations. The system is designed in accordance with recognized LNG industry standards, including EN1474-3, as well as OCIMF and SIGGTO recommendations.
TechnipFMC's ARCOS takes STS LNG transfer operations to new industry levels, elevating safety, operational excellence, reliability, performance, project economics and compliance standards for clients worldwide.