News | 20 juin 2019
ConocoPhillips décerne un prix international à TechnipFMC pour son approche collaborative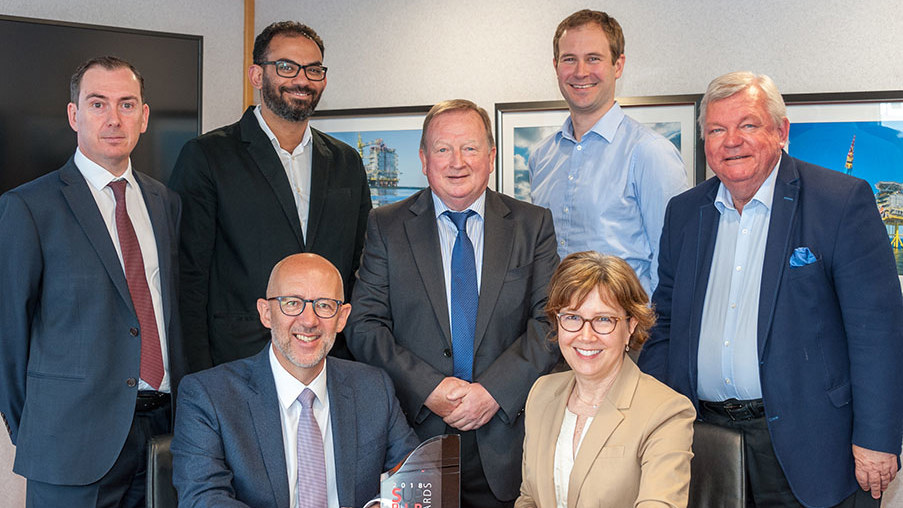 ConocoPhillips a décerné le Global Supplier Recognition Award (Prix du fournisseur mondial) à TechnipFMC, leader du secteur pétrolier et gazier, en reconnaissance de son engagement client.
Ces prix internationaux sont attribués aux entreprises qui ont un impact positif sur l'activité de ConocoPhillips et qui font preuve d'un «dynamisme exceptionnel et d'un engagement en faveur des valeurs SPIRIT du groupe».
TechnipFMC est lauréat dans la catégorie « Focus on Doing Business Better » (Priorité à l'amélioration des pratiques) pour son approche collaborative avec ConocoPhillips et avec d'autres entreprises au Royaume-Uni.
TechnipFMC a travaillé en collaboration étroite avec ConocoPhillips et ses sous-traitants à la réalisation d'études et d'analyses conjointes des risques concernant le développement de champs marginaux au Royaume-Uni. Cela a permis de réduire le coût d'approvisionnement du projet et d'en raccourcir la durée de quinze mois.
Arnaud Pieton, Président Subsea de TechnipFMC, déclare : « Nous sommes très fiers de voir nos performances ainsi récompensées par notre partenaire de longue date, ConocoPhillips. La sélection de TechnipFMC parmi un large panel de compétiteurs constitue une nouvelle marque de reconnaissance de nos compétences et de notre proposition commerciale unique. Cette récompense, nous la devons à toutes nos équipes. Qu'elles en soient ici félicitées ! »
« Ce programme est pour nous un moyen de rendre hommage à nos fournisseurs pour leurs efforts et le rôle important qu'ils jouent en nous aidant à réaliser nos objectifs opérationnels et en matière de sécurité », ajoute Matt Fox, Vice-président exécutif et directeur des services opérationnels de ConocoPhillips.
###
À propos de TechnipFMC
TechnipFMC est un leader mondial des projets subsea, onshore/offshore et surface. Grâce à nos technologies et systèmes de production propriétaires, à notre expertise intégrée et à nos solutions complètes, nous améliorons la rentabilité économique des projets de nos clients.
Notre position unique nous permet d'offrir une plus grande efficacité tout au long du cycle de vie des projets, depuis leur conception jusqu'à leur réalisation et même au-delà. Grâce à des technologies innovantes et de meilleures performances, notre offre ouvre de nouvelles opportunités à nos clients dans le développement de leurs ressources pétrolières et gazières.
Chacun de nos plus 37 000 collaborateurs est guidé par un engagement sans faille auprès de nos clients et par une forte culture de l'innovation. Ils remettent en question les pratiques du secteur de l'énergie et repensent les méthodes pour atteindre les meilleurs résultats.
Pour en savoir plus sur notre entreprise et sur la façon dont nous optimisons les performances de l'industrie mondiale de l'énergie, rendez-vous sur le site TechnipFMC.com et suivez-nous sur Twitter @TechnipFMC.
Contacts
Lisa Barclay
Communication Manager
+44 1224 271061
Photo caption: (Back, from left) From TechnipFMC; Chris Tavendale, Tendering Director UK, Mediterranean & Caspian; Mahmoud Attia Project Engineering Manager; John Cowling, Project Director and from ConocoPhillips Nils Svanberg, Manager Supply Chain, IT & Facilities Europe and Graeme Davies, Talbot Project Integration Manager. (Front) Bill Morrice, TechnipFMC Vice-President Subsea Commercial UK, Mediterranean & Caspian and Terri King, ConocoPhillips' UK President.