News | 03 juillet 2017
TechnipFMC Umbilicals Reconnu Pour Son Investissement Dans L'humain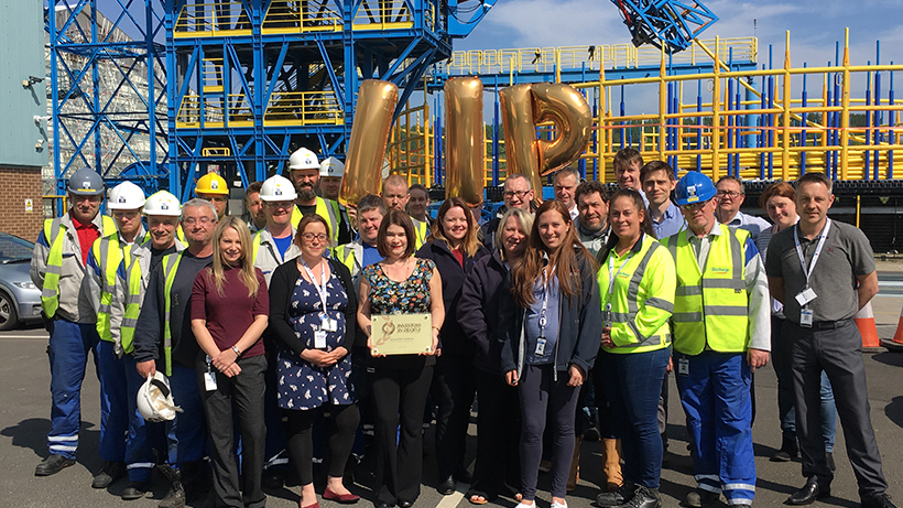 TechnipFMC Umbilicals Ltd., entreprise leader mondial de la fabrication de systèmes ombilicaux sous-marins(1) basée dans le Nord-Est de l'Angleterre, a reçu le label « Investors in People Gold », et rejoint les 13 % d'entreprises référencées au Royaume-Uni qui misent sur le potentiel de réussite de leurs collaborateurs.
Comptant plus de 400 salariés dans ses ateliers le long de la Tyne, TechnipFMC Umbilicals fournit depuis plus de 40 ans des systèmes ombilicaux sous-marins à de très nombreux sites du monde entier. TechnipFMC Umbilicals dispose d'unités de production sur les quatre continents, d'une riche expérience et de technologies à l'avant-garde du progrès. TechnipFMC Umbilicals répond donc avec brio aux défis de l'industrie subsea d'aujourd'hui.
Investors in People est la référence internationale en management des ressources humaines. Ce label définit les critères requis pour animer, accompagner et diriger avec efficacité les personnels en vue d'obtenir des résultats durables. Le label repose sur le référentiel Investors in People, qui reflète les dernières tendances observées sur les lieux de travail, les compétences essentielles et les structures concrètes nécessaires pour arriver aux meilleurs résultats quel que soit le secteur d'action.
Paul Devoy, Head of Investors in People, a déclaré : « Nous voulons féliciter TechnipFMC Umbilicals Ltd. pour son label Gold. Un tel niveau de référence est le signe d'une grande pratique dans le management humain. Il démontre un engagement en faveur du développement des collaborateurs et révèle une organisation déterminée à agir au mieux. La société TechnipFMC Umbilicals Ltd. peut être extrêmement fière de cette consécration. »
Steve Burrows, Managing Director d'Investors in People pour le Nord de l'Angleterre par le biais d'IDG a déclaré :
« Il s'agit d'une belle reconnaissance pour TechnipFMC Umbilicals Ltd. et je tiens à féliciter l'équipe pour sa réussite. Nous sommes convaincus que les bonnes personnes font les grandes entreprises. Comme cadre de développement organisationnel réputé, Investors in People a pour mission d'aider les entreprises et leur personnel à concrétiser leur potentiel, à améliorer les résultats et à atteindre les objectifs. Avec son label Gold, TechnipFMC Umbilicals œuvre de toute évidence pour que ses collaborateurs donnent le meilleur d'eux-mêmes ».
Commentant cette distinction, Sarah Cridland, Managing Director de TechnipFMC Umbilicals Ltd. a déclaré : « Nous sommes si fiers d'avoir obtenu le label IiP. Cette prestigieuse référence reconnaît que TechnipFMC Umbilicals Ltd. s'engage à investir dans nos ressources humaines et a la volonté de créer un environnement de travail positif, riche en multiples possibilités de développement personnel et d'épanouissement professionnel. »
(1)Ombilical : assemblage de tubes d'acier et/ou de canalisations hydrauliques, de câbles électriques et de fibres optiques. Ce type d'assemblage est utilisé pour le contrôle des installations sous-marines à partir d'une plate-forme ou d'un navire.
About TechnipFMC
TechnipFMC is a global leader in subsea, onshore/offshore, and surface projects. With our proprietary technologies and production systems, integrated expertise, and comprehensive solutions, we are transforming our clients' project economics.
We are uniquely positioned to deliver greater efficiency across project lifecycles from concept to project delivery and beyond. Through innovative technologies and improved efficiencies, our offering unlocks new possibilities for our clients in developing their oil and gas resources.
Each of our more than 40,000 employees is driven by a steady commitment to clients and a culture of purposeful innovation, challenging industry conventions, and rethinking how the best results are achieved.
To learn more about us and how we are enhancing the performance of the world's energy industry, go to TechnipFMC.com and follow us on Twitter @TechnipFMC.



Contacts
Media Relations
Emily Bissett
Marketing and Communications Officer
Tel: +44 (0)191 296 7288
Email: emily.bissett@technipfmc.com
About Investors in People
Investors in People makes people management excellence count. They exist to help businesses realise the potential of their people, improve standards and gain the accreditation to prove it.
Through the respected Standard, business insight and the IIP bank of tools and resources, organisations of all shapes and sizes can put their people first – and discover a brighter business future.
Over the last 25 years, IIP has helped more than 100,000 businesses around the world improve, using their Accreditation Framework to boost working culture, increase employee engagement and encourage game-changing leadership.
For more information about Investors in People please visit www.investorsinpeople.co.uk