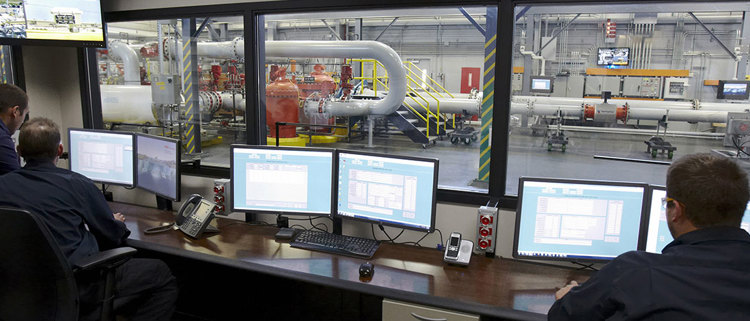 Transportation
Faster, safer and more economical transport and delivery of hydrocarbons
Whether transporting automotive, aviation or heating fuels, distillates or LPG's, TechnipFMC has the array of products and depth of applications expertise to meet these diverse measurement requirements.
75+ years
2,500 systems
Millions of installed meters
World class automation solutions
24/7 service and support
Trucks, ships, railroads and pipelines are the normal means of transporting oil, gas, natural gas liquids (NGL) and their derivatives. TechnipFMC supplies this industry segment with complete fabricated systems for custody transfer and allocation measurement; metering instrumentation and intelligent automation helping to optimize operations.
For downstream transportation, we also provide smart measurement devices, SCADA pipeline automation, and terminal automation providing, inventory accounting and reporting and ERP integration.
Since 1940, our Smith Meter® brand has produced reliable, accurate and consistent measurement results backed by millions of installed meters.
Our end-to-end turnkey solutions include the design, manufacturing, service, support, monitoring and training on our systems and products.
We provide full integration, automation and remote monitoring of smart flow measurements from the field operations level to global control and integration with our clients' ERP.
To learn more, download our case study:
Industry leading measurement technologies with in-house testing facility.
TechnipFMC manufactures three API-approved custody dynamic transfer metering technologies:
Ultrasonic
Turbine
Positive displacement (PD)
Utilizing our Flow Research and Test Center guarantees optimum verification of meter performance. It is the only facility in the world that can test meters over the widest dynamic measurement range. It demonstrates product functionality, reliability, accuracy on a full-scale setting, in real time.
Smith Meter® and Sening®
Our highly esteemed Smith Meter® and Sening® product lines set the standard for petroleum supply chain management.
Our accurate and reliable measurement solutions make the daily routine of hydrocarbon and petroleum product transportation and delivery faster, safer and more economical.