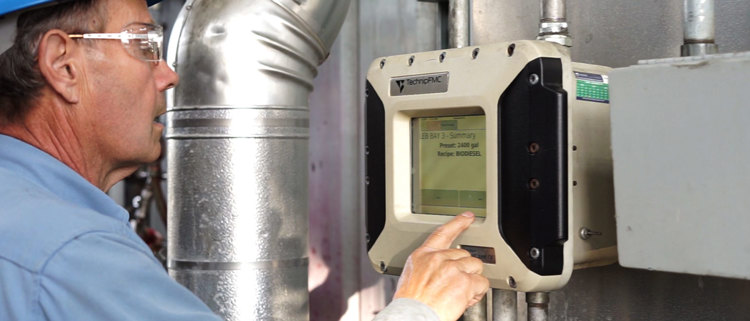 Play video
Terminal operations
End-to-end terminal solutions for measurement, accounting and control
TechnipFMC can deliver best-in-class solutions at any level of terminal operations. We are the leading provider of measurement and automation solutions for the transportation and distribution of oil, gas and natural gas liquids (NGL) by truck, rail, vessel and pipeline.
Integrated Measurement Solutions
Terminal operators strive for maximum efficiency and throughput, which depends on loading equipment with unsurpassed accuracy, safety and economy. Understanding these needs, TechnipFMC engineers equipment for continuous trouble-free performance under severe operating conditions, with predictable maintenance and minimal downtime, and satisfying all legal accuracy requirements.
Proper system design is essential for accurate loading and unloading of straight and blended refined products at the terminal. The high-quality Smith Meter® and Sening® products and systems provide the ultimate metering solutions for terminal operations of all liquid products. Since 1940, the Smith Meter® brand is known worldwide for its reliable, accurate and consistent measurement results backed by millions of installed meters.
Our M-Flow Sure-Cut delivers precision water cut measurement under challenging process conditions, offering premium low water cut analyzer technology with real time density and temperature compensation features with remote operations capabilities.
To learn more, download our brochure and case study:
Complete solutions provider
Supported by R&D centers
From individual product components to complete skid-mounted load rack packages, TechnipFMC provides the power, flexibility and configurability for today's highly efficient and regulated terminals.
End-to-end partnership:
Front End engineering and Design (FEED) study
FUEL-FACS+ terminal automation system
B2B integration
24/7 service and support no matter what day, by engineers and certified technicians
Our offering of end-to-end turnkey solutions includes the design, manufacturing, service, support, monitoring and training for pipeline automation, LACT and terminal automation (FUEL-FACS+), local SCADA, inventory accounting and reporting, ERP integration and central SCADA.
Custody transfer
TechnipFMC provides complete fabricated systems for custody transfer and allocation measurement; metering instrumentation and intelligent automation helping to optimize operations. Our smart measurement and flow devices allow for remote monitoring from the field operation to global control and ERP integration. TechnipFMC manufactures three API-approved custody dynamic transfer metering technologies: Ultrasonic, turbine and positive displacement (PD).
Automation and control
With FUEL-FACS+, every client benefits from over 30 years of experience and best practices gathered from over 400 terminals across the world. FUEL-FACS+ is simple, reliable and configurable which makes implementations fast and seamless. Updates are easy, enabling effortless cyber security compliance.
Our advantage
A global leader known worldwide with more than 75 years of experience
UCOS/FUEL-FACS+ gives you full integration and I/O control; significantly decrease commissioning costs
Integrate and communicate with any platform
We will act as your integrator and reduce % downtime, decrease upfront costs, decrease CAPEX
One solution and provider for even the most severe operating terminals
Predictable maintenance software with minimal downtime
Safety and sustainability are at the forefront of every designed product and service we provide
Flow research and test center capable of testing meters over the widest dynamic measurement range of any test facility in the world
Unsurpassed dynamic flow test center
Our Flow Research and Test Center is the only facility in the world that can test meters over the widest dynamic measurement range. It demonstrates product functionality, reliability, accuracy on a full-scale setting, in real time. Our test center guarantees optimum verification of meter performance.
Traceable to international standards and meets all requirements for OIML
Maximum Flow capability of 4 to 42,000 bph (0.6 to 6,675 m3/h)
Viscosity Testing range of 2 to 500 cSt (2 to 500 mm2/s)
Can test meter sizes from 1 to 30 inches (25 to 750 mm)
Dynamic testing range of 10 to 1,000,000 Reynolds Number