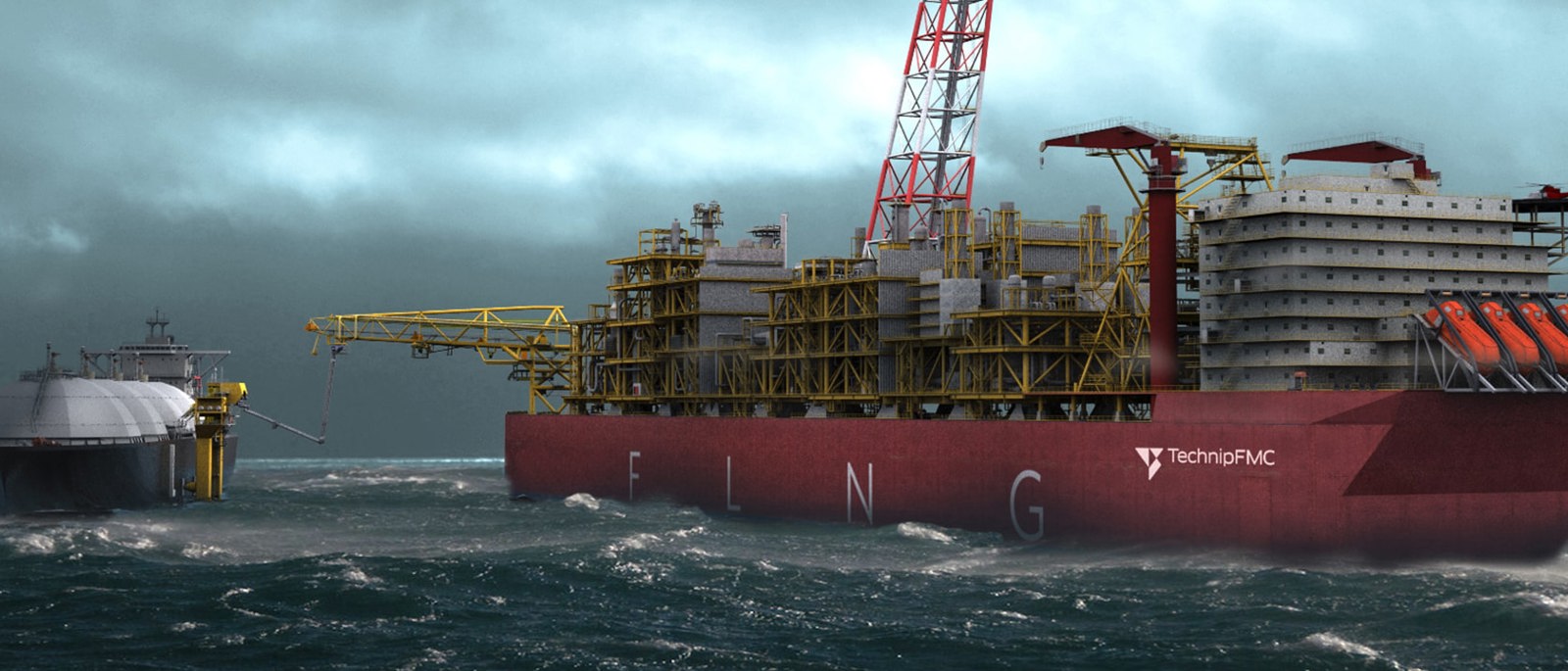 Feature | March 01 2018
Parallelize LNG offloading operations
When side-by-side offloading is no longer a viable solution
Side-by-side offloading with articulated rigid arms is currently the reference solution for floating liquefied natural gas facilities (FLNG). This cost-effective solution uses mature technologies and procedures that are similar to exposed jetties. Despite the FLNG installation's close proximity to the LNG carrier moored alongside and the 2.5-meter significant wave height these operations typically encounter, side-by-side mooring provides sufficient offloading uptime for FLNG projects sanctioned to date.
But for future installations — large-capacity FLNGs requiring increased offloading frequencies or those located in areas with persistently harsh environments — side-by-side offloading may no longer be a viable solution.
The industry has proposed several tandem LNG offloading systems that provide significant safety separation distance between the vessels and high environmental thresholds but require use of a dedicated LNG carrier fleet with bow loading systems or long and large-diameter floating flexible LNG lines to reach the midship manifold of conventional LNG carriers.
Parallelize your offloading operations
In late 2014, TechnipFMC and HiLoad LNG AS began developing the HiLoad® LNG parallel loading system, an offloading solution that combines the best of both side-by-side and tandem solutions.
Benefits of the HiLoad system:
Supports loading of any LNG carrier, or LNGC, for full trading flexibility and minimum shipping costs.
Accommodates high environmental thresholds, typically above 4 meters significant wave height.
Improves offloading uptime and regularity.
Minimizes fluid transfer line length for high flow and reduced pressure drops.
Uses proven or qualified technologies.
The HiLoad system uses a dynamically positioned, semi-submersible, L-shaped vessel that can dock onto any tanker vessel and provide dynamic positioning station-keeping. Such a vessel has already been used for oil offloading operations in Brazil. For LNG applications, the HiLoad loading terminal is docked amidship and is used to interface the FLNG offloading lines and the LNG carrier midship manifold using standard articulated rigid arms, as in a conventional loading berth.
The overall motivation behind developing HiLoad was to move the LNGC midship manifold significantly closer to the FLNG compared to the tandem arrangement to shorten the LNG transfer lines. The arrangement keeps the LNG carrier parallel to the starboard side of the FLNG, with the midship manifold in line with — and about 100 meters away from — the stern of the FLNG.
Since the HiLoad terminal is connected amidship, the DP system has no capability to control the LNGC's heading. The heading control is enabled through the carrier's own propulsion in "dead slow ahead" and autopilot to avoid manual control of the LNGC's rudder.
For established wind, waves and current conditions, the optimum heading of the carrier is set so the environmental force acts partly on the vessel's port side to ensure that it naturally drifts away from the FLNG in case of emergency situations such as blackout scenarios. The LNGC thus has flexibility to weathervane to accommodate changing wind, waves, or current conditions without changing the FLNG heading.
The HiLoad system can accommodate any type of offshore LNG transfer system proposed by the industry: aerial, floating cryogenic hoses or articulated rigid arms. In combination with TechnipFMC's ATOL articulated rigid-arm LNG transfer system, HiLoad can achieve the highest LNGC loading rates — typically 14,000 m3/h — with minimal pressure losses (about two bars), comparable to a side-by-side system.
The feasibility of parallel loading operations has been confirmed through time-domain analysis of established and changing environmental conditions and through MARIN's Full Mission Bridge Simulator, which accounts for human factors similar to a full-scale operation. The HiLoad parallel loading system, in combination with the ATOL application, is ready for future FLNG projects — large-capacity facilities and those operating in harsh environments — opening the FLNG market to new geographic areas.
Photo caption: The HiLoad LNG parallel loading system with TechnipFMC's ATOL tandem loading application for high offloading uptime under harsh environments and optimum flow performance.