Getting faster to first power brings a host of benefits that simply mean better business for your floating offshore wind development.
Floating offshore wind is the new wind power frontier, and making the best decisions for these offshore wind farms can be difficult. Selecting the Dynamic Inter Array Cable System is a powerful choice because it reduces complexity and risk; at the same time it sets the best foundation for a floating offshore wind project.
The Dynamic Inter Array Cable System uses the engineering, procurement, construction and installation (EPCI) model to mitigate risk and ensure the right solution for a specific project. This means that there is a smooth, unbroken link between a floating offshore wind farm design and every step of the process to the end result of an efficiently operating development.
In contrast, managing each stage in isolation leads to problematic compromises.
For example, if the least expensive mooring system is used, quality is likely compromised and the wind farm's floating foundations will move a lot, leading to significant loads on the cables. As a result, these cables will be over-specified at best or not able to work at worst.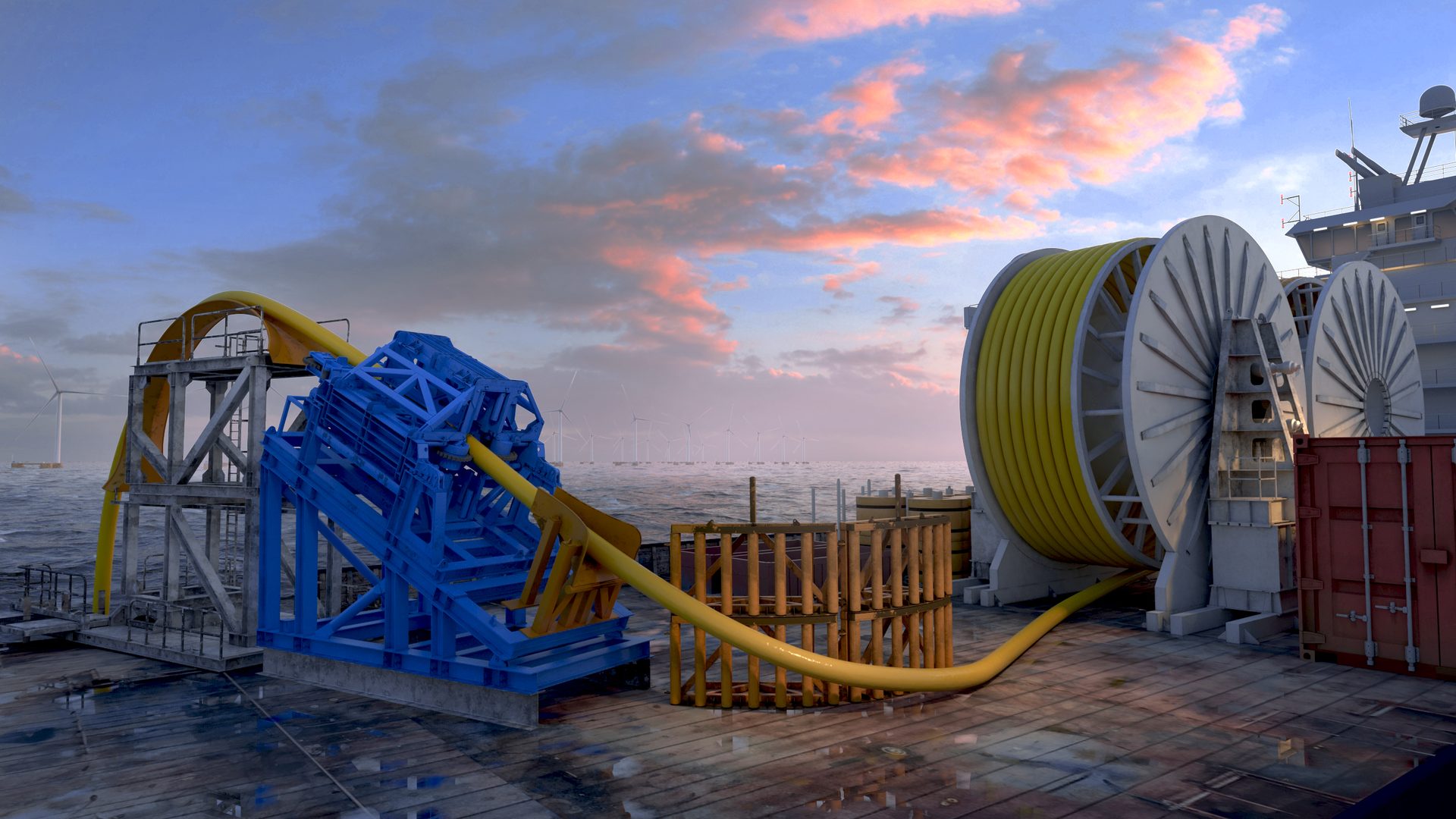 Using a Dynamic Inter Array Cable System on a floating offshore wind development accelerates it towards first power.
This efficient big-picture perspective accelerates a floating offshore wind farm more quickly and reliably towards power transmission. Being faster to first power leads to powerful benefits.
Let's look at some of the benefits of using a Dynamic Inter Array Cable System.
Dynamic Inter Array Cable System = faster to first power
1. Faster return on investment
Getting power more quickly means getting money more quickly. That can in turn lead to reducing the amount of borrowing necessary for a project or allowing its loans to be paid off ahead of schedule.
The system approach means you will reduce costs and likely eliminate stages along the way – by removing the need to pay for cable storage while you wait for vessel availability, for example.
The Dynamic Inter Array Cable System improves lead times due to the greater efficiency of each step. The turnkey approach means you will also avoid exhausting resources to write unnecessary invitations to tender and evaluate the resulting applications.
Capacity is limited and demand is high for resources such as manpower, materials and vessels. Floating offshore wind developers are in competition with each other and with industries such as nuclear and oil and gas which want to use the steel, copper, et cetera to make the cables themselves. Getting your project started quicker secures your capacity.
Uptime is critical to the commercial success of a floating offshore wind development. Power can be reliably kept flowing with the Dynamic Inter Array Cable System.
Governments have offshore wind target dates for first power and being recognized as delivering on this puts you in good standing. Being able to expedite your timeline will greatly help you achieve this.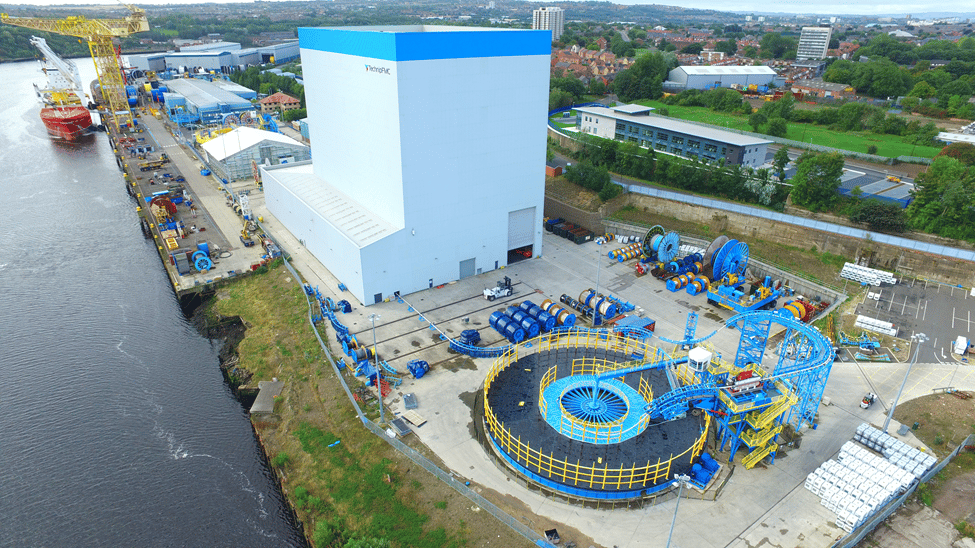 A vessel used to install dynamic cables and service floating offshore wind farms docks at TechnipFMC's facility in Newcastle, England. 
The alliance partnership approach requires trust as the customer and supplier of the Dynamic Inter Array Cable System collaborate for mutual benefit. Entering into an alliance partnership with a company that has a track record of being able to deliver on large-scale industrialized subsea projects makes good business sense.
It also further strengthens the opportunity to reduce, mitigate and redistribute risk and, not least, to optimize first power. TechnipFMC has had success with the alliance partnership setup, with the alliance with Neptune Energy as a recent example. Our floating offshore wind alliance partners will get preferential treatment with our manufacturing capacity, our fleet of vessels and other capacity needed for the Dynamic Inter Array Cable system.
The route to success in floating offshore wind is the ability to deliver repeatable and high-volume products.
An alliance strengthens your project
Offshore service vessels are needed for installation and maintenance.
Use of the Dynamic Inter Array Cable System in the deep offshore waters makes good business sense. TechnipFMC New Energy Strategy Director Benjamin Buhot will show you how.
He'll talk about the unique ways the Dynamic Inter Array Cable System has the scope to help you manage the bottlenecks and hurdles that are sure to come. What are your floating offshore wind development's needs?
Get up to speed! Join Ben.
The new energy leader explains what's changing