Remote Intervention Vehicle
The Future of Subsea Robotics



Riserless Light Well Intervention (RLWI)
A significant increase of production can be achieved in a very short timeframe intervening in existing wells.
Drilling a new well requires a rig, which needs to be contracted, and new production equipment, which needs to be built. This could take years.
With TechnipFMC's RLWI, operators are able to increase production in a matter of months instead of years.
Increased Production. Now.
TechnipFMC's agile approach to RLWI enables clients to drastically cut the average duration of intervention. Wells where production has decreased due to challenges (including well integrity, scaling, water production, reservoir depletion or equipment failure) can be addressed with RLWI.

Our RLWI technology reduces the cost of intervention compared to rig-based interventions by removing the need for a rig and a riser, resulting in:
Simpler operations
Significantly faster production
Drastically lower environmental footprint
Why Riserless Intervention?
On a 6-well gas-lift valve changeout campaign executed by TechnipFMC, an operator in the North Sea reported the following gains compared to a riser-based solution:
47 % time reduction

73 % OPEX savings ($36.7M)

80 % estimated CO2 emissions reduction
TechnipFMC's RLWI key personnel have an average RLWI seniority of more than 14 years.
Experience matters, and it is efficiency that makes the difference. Lower Environmental Impact
RLWI results in significantly lower environment impact compared to rig/riser-based intervention:
Much shorter operations
Reduced Personnel on Board (POB), which results in less helicopter crew changes and supply vessels runs
Elimination of anchor handling vessels and time to moor the rig in shallow water
RLWI can safely work on dynamic positioning in less than 80 m. water
Less equipment and lighter equipment onboard requiring less power, which results in lower emissions
Experience Matters, and Efficiency Makes the Difference

Click on the legend to toggle between the systems
Reduction in average days per well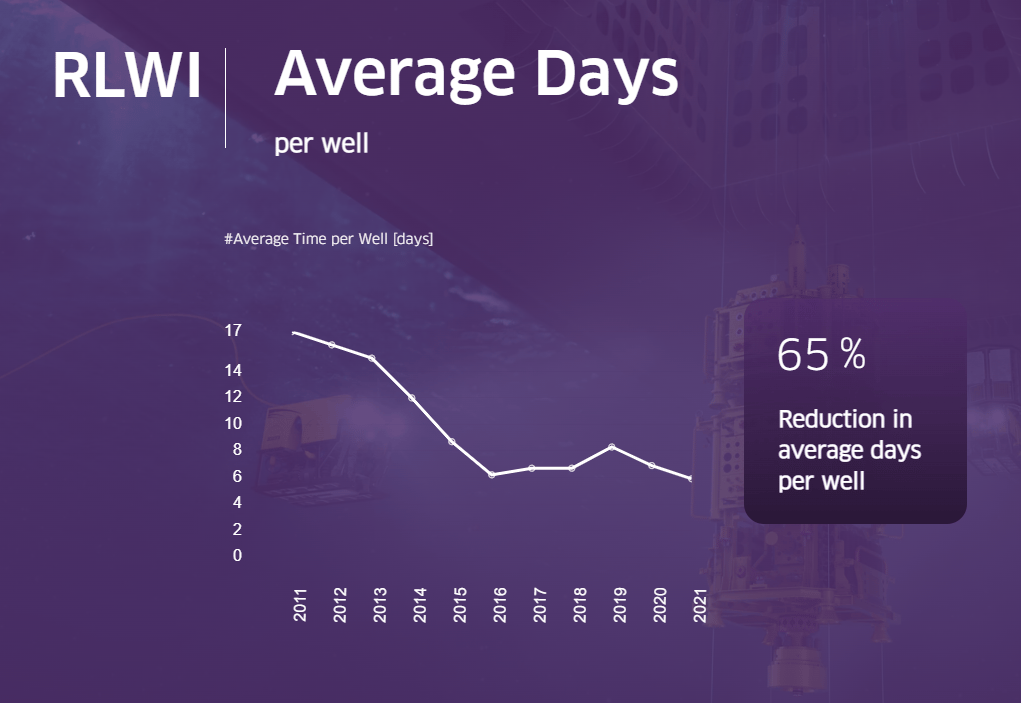 Typical RLWI Applications for Production Enhancement
Safety valve repair/replacement
Gas-lift valve replacement
Tree change-out
Acid stimulation/scale squeeze
Re-perforation
Water shut-off
Gas-lift retrofit
Well integrity repairs
Need intervention support?
Let us help you identify the best solution.